The Middle School Girls Basketball game scheduled for this Saturday has been moved to this Friday, January 28th at Elkton playing at noon in the EHS gymnasium.

Elkton Charter School events for the week of January 24-January 29th!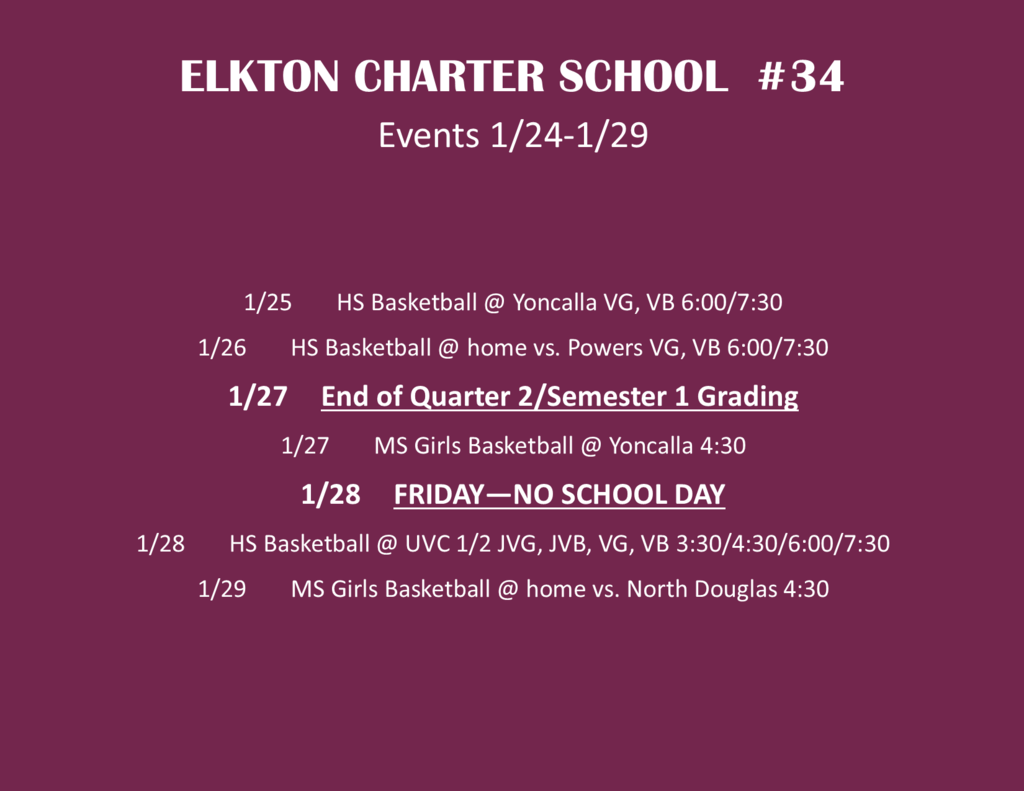 EHS Varsity Boys will host Glendale Varsity Boys Saturday, 1/22, at 5 pm.

ATTN: tonight's Girls Varsity game vs. Powers has been canceled. Saturday's games vs. Camas Valley have been canceled. Please stay tuned for game announcements. We hope to reschedule at a later time.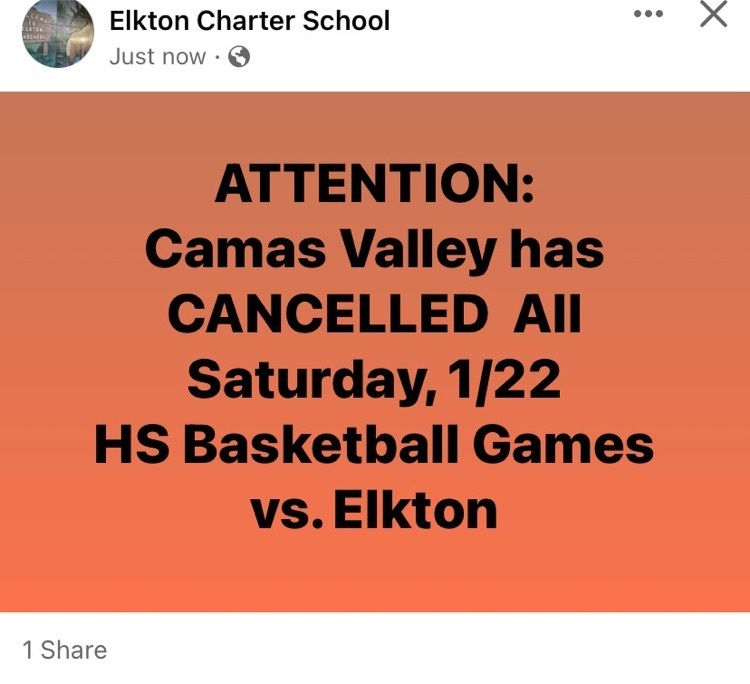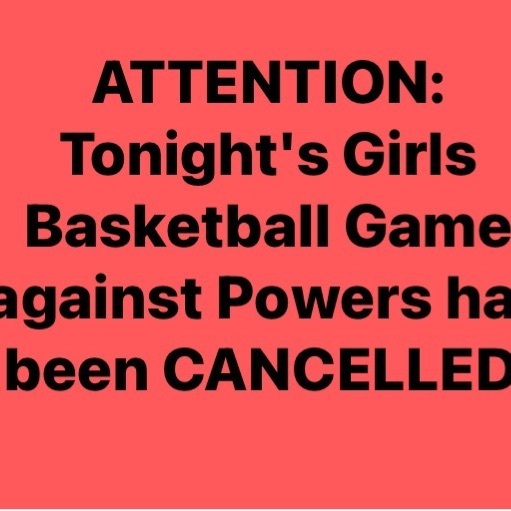 Tonight's Varsity Girl basketball game vs. Powers has been canceled. All of Saturday's basketball games vs. Camas Valley has been canceled. We hope to reschedule.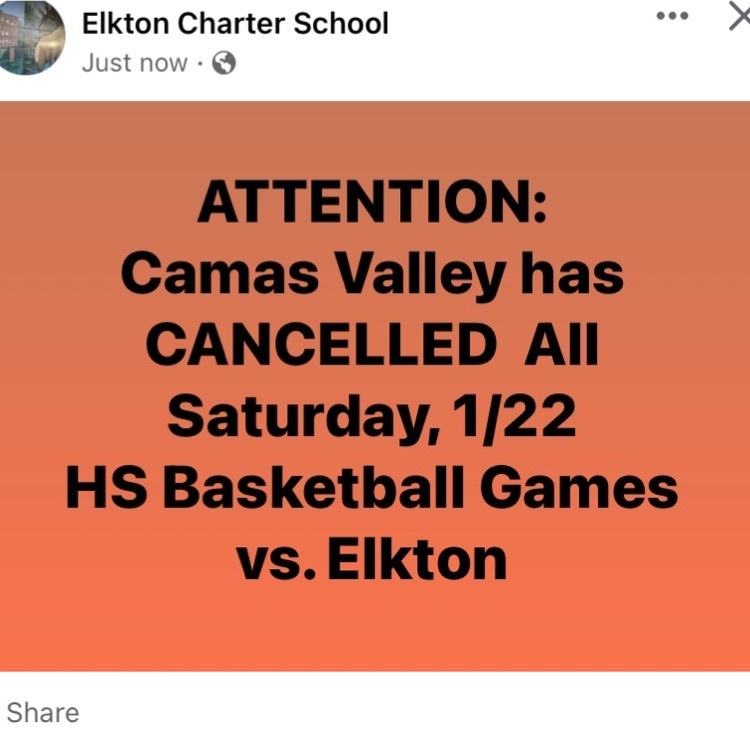 Update to Friday, 1/21/22 Basketball Game at home vs. Powers. Varsity Boys game is canceled. Varsity Girls game will begin at 6:00 p.m.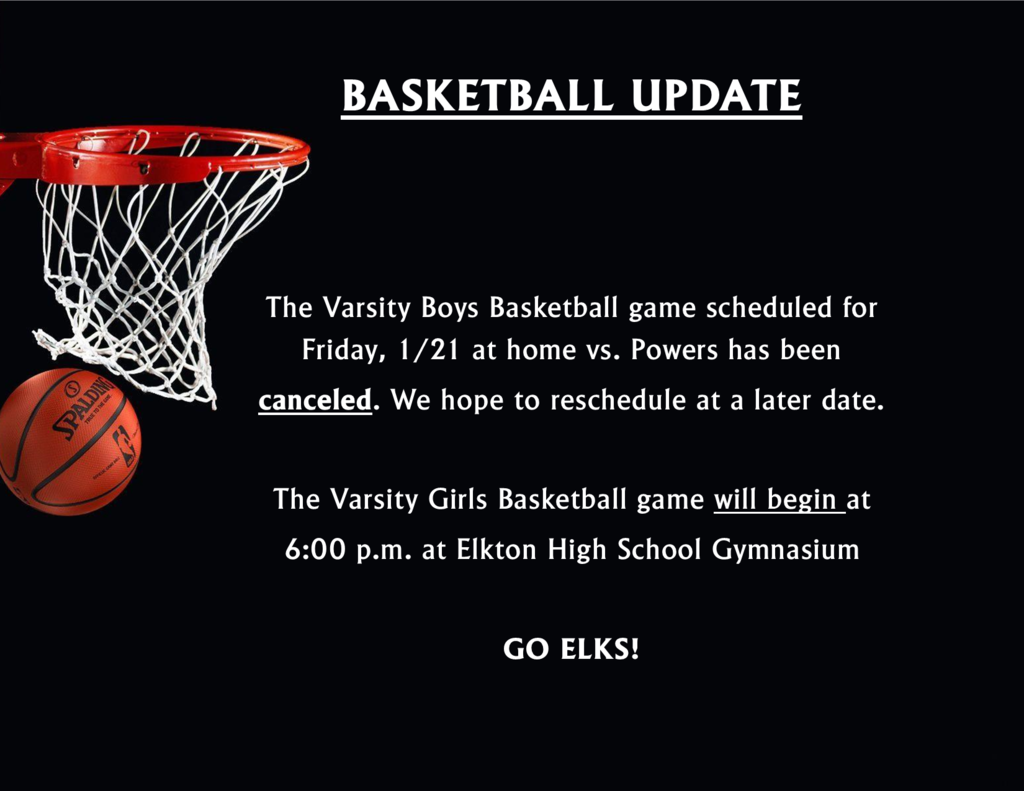 CONGRATULATIONS Cybernetic Elks! Currently standing at 6th place in the State of Oregon. We are proud of you. and excited to see how the rest of your season unfolds! WAY TO GO!

Today's scheduled Middle School Girls Basketball Game at Glide , 1/19/22, has been canceled. We hope to reschedule at a later time.

Events for January 18-22nd! Please note that this Friday is a regular school day.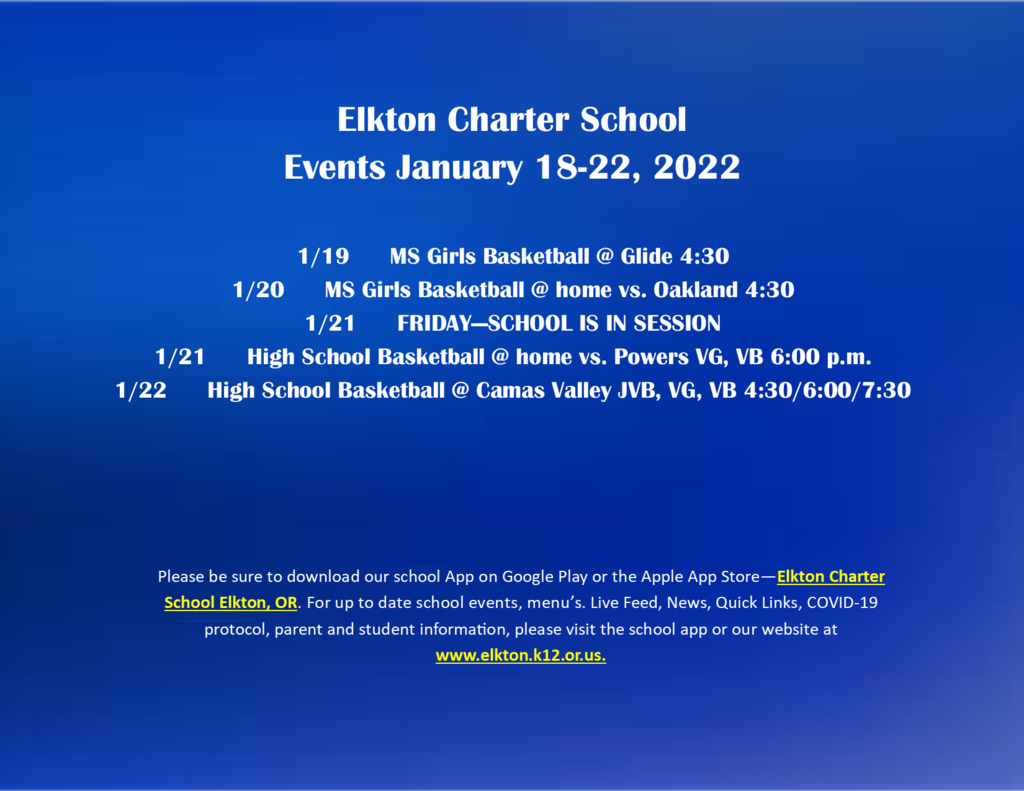 Place Your Order for Free At-Home COVID-19 Tests Residential households in the U.S. can order one set of 4 free at-home tests from USPS.com. Here's what you need to know about your order: Limit of one order per residential address One order includes 4 individual rapid antigen COVID-19 tests Orders will ship free starting in late January.
https://special.usps.com/testkits


Due to COVID-19 Protocol, the Elkton High School Basketball games scheduled for Friday, January 14th and Saturday, January 15th have been canceled. We hope to reschedule for a later date.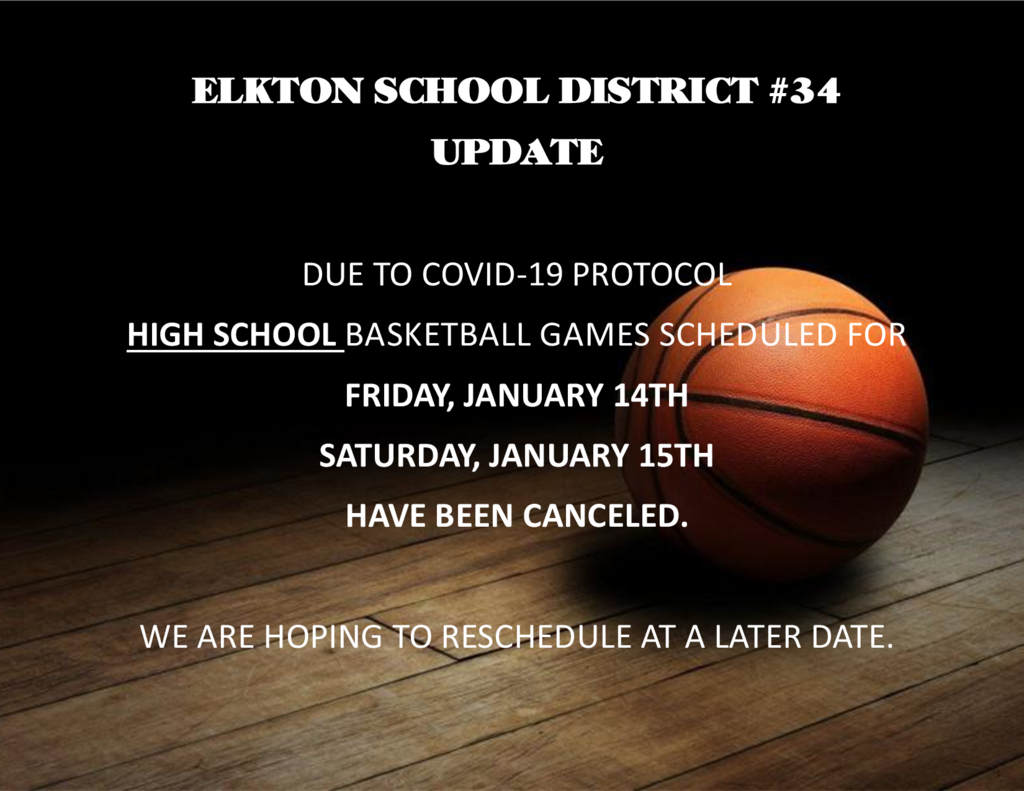 Events scheduled for this week!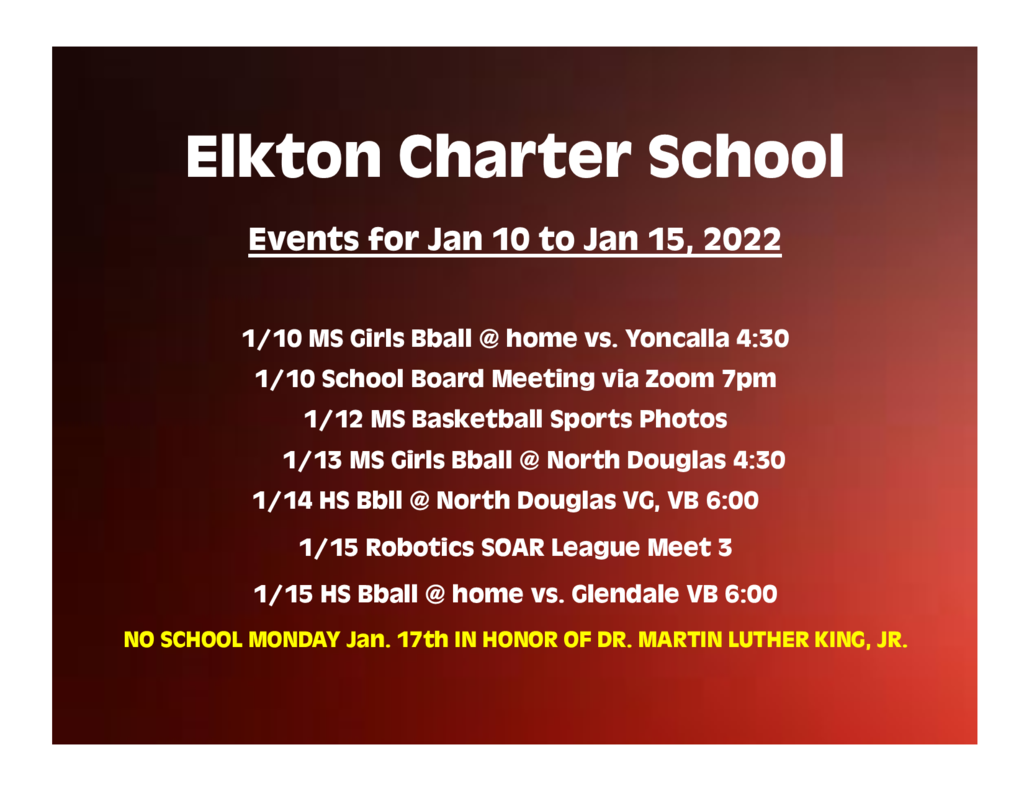 It's an exciting day at the Elkton School District! All the pieces are in place and we are able to have concrete poured today for the new gymnasium and classrooms at our elementary school.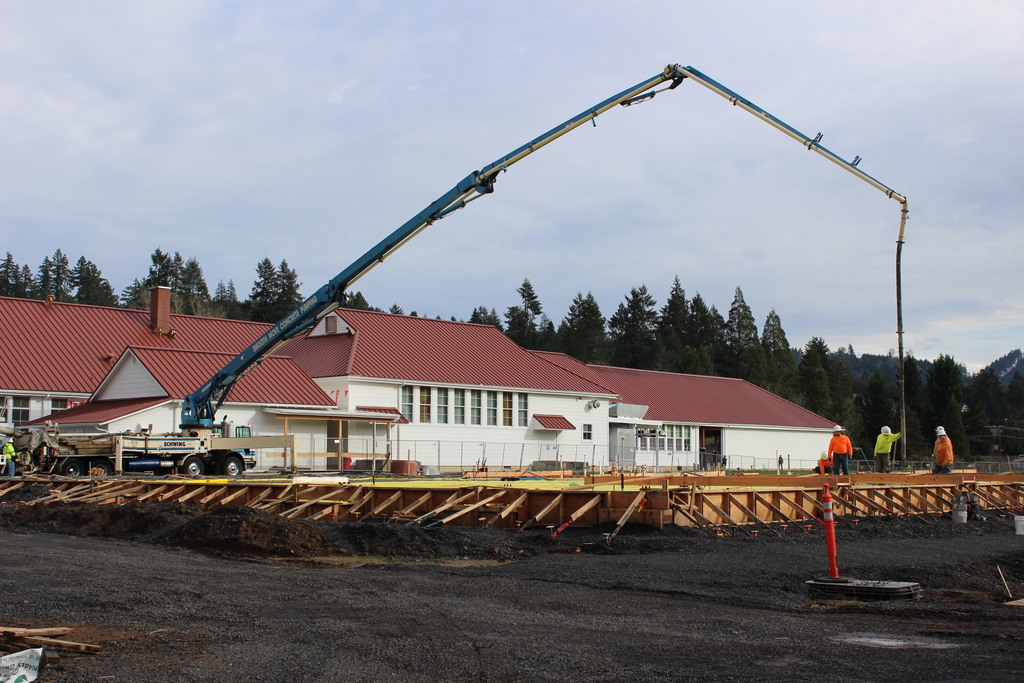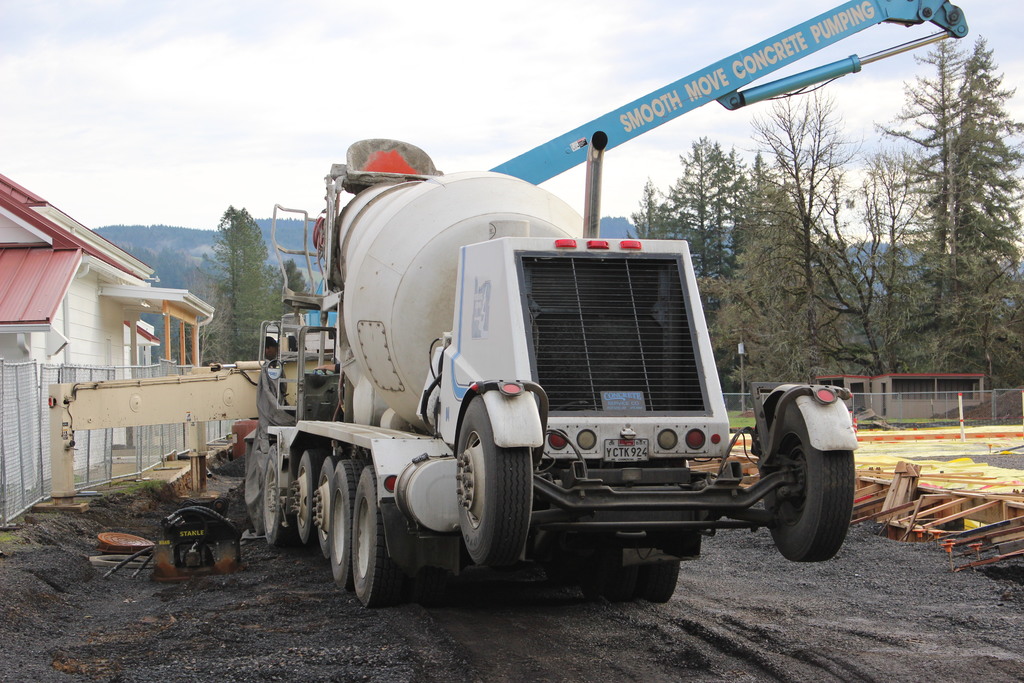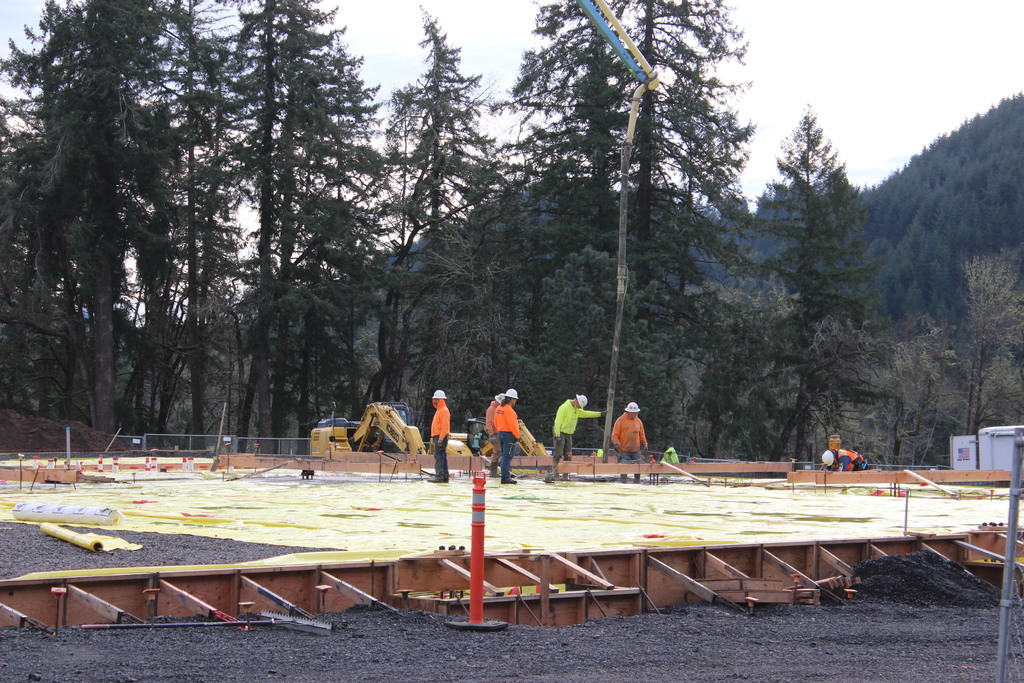 Tonight's home basketball games, both boys and girls, have been cancelled. January 8, 2022.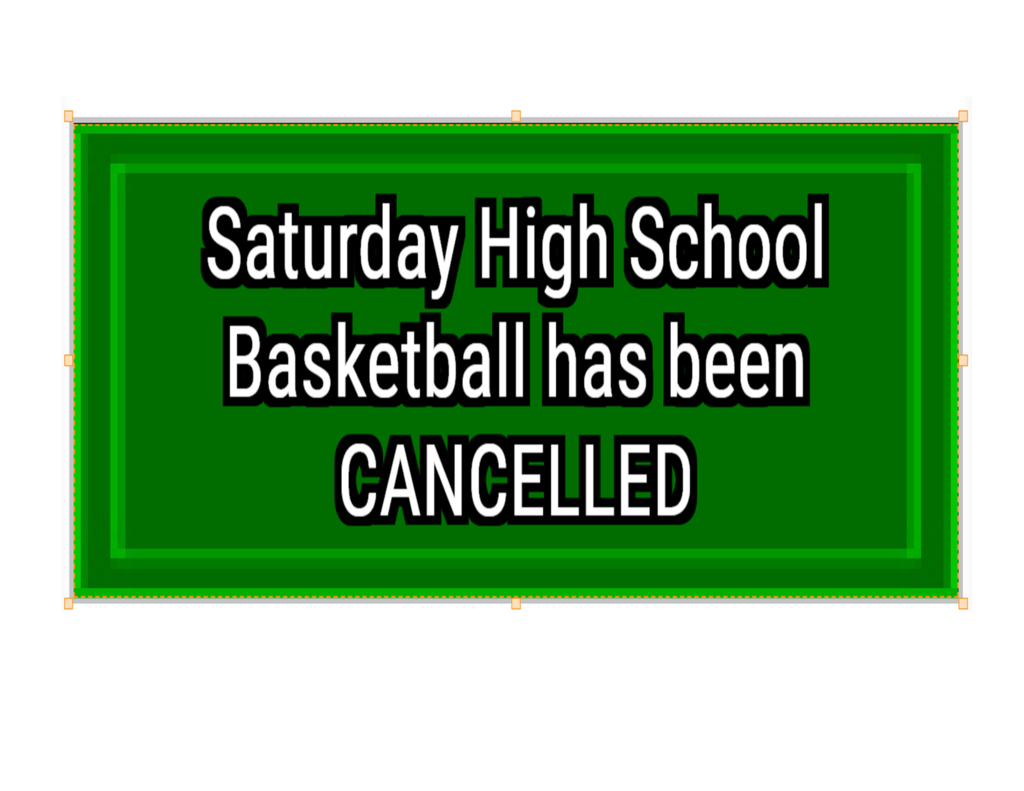 REMINDER TO OUR FAMILIES: Please keep your child home if they have any symptoms of illness. Together, we can keep our schools open for learning.

Due to COVID-19 protocol, both the Girls and Boys Basketball games scheduled for tonight, Saturday January 8th, has been cancelled. We hope to reschedule for a later date.

Elkton School District #34 Update Friday night's (1/7) Boys basketball game between Elkton and Yoncalla was abruptly postponed because of a positive COVID result. The game will be re-scheduled for a later Date. The boys game Saturday (1/8) night will be cancelled. Our Girls game for Saturday (1/8) will go on as scheduled. Start time for JV will be 5:00 and Varsity 6:00.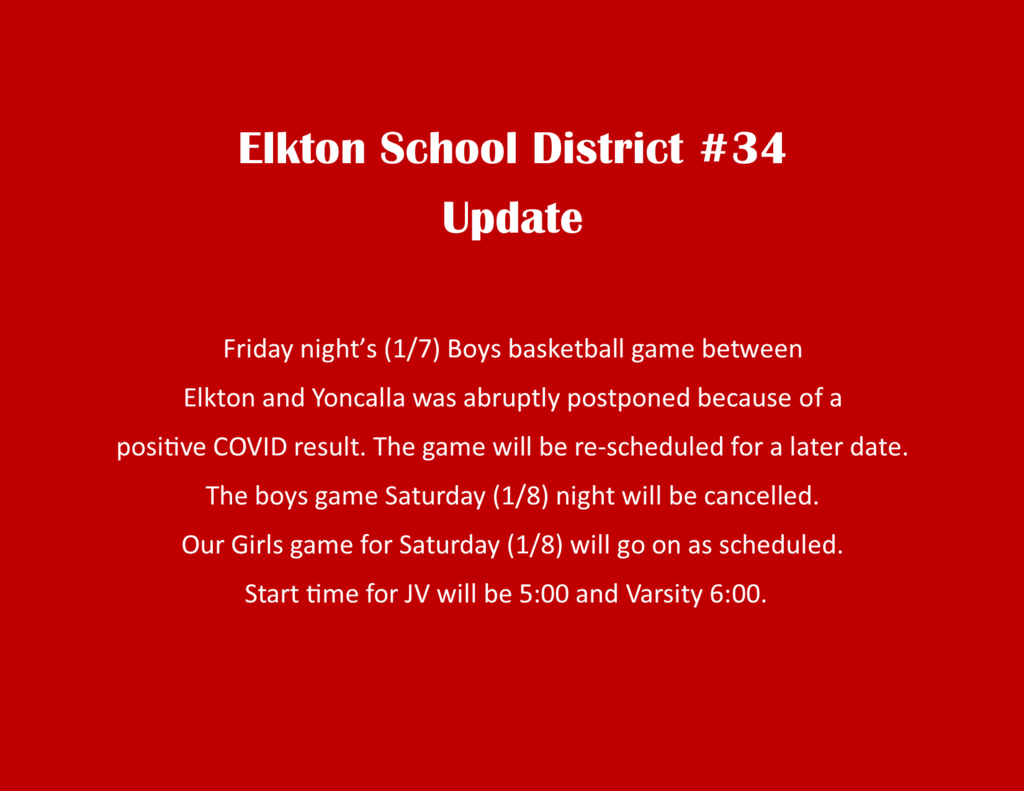 Update from Supt. Andy Boe We are beginning to see a surge of COVID-19 in Douglas County at this time, according to Douglas County Public Health. We will continue to test students and staff as needed and refer positive cases to the nurse and DPHN. Our next steps will be to limit in person meetings and either re-schedule or host them online. As of now we are not limiting extra -curricular activities. However, cases are predicted to double every three days over the next two weeks. You may see us getting things ready for a transition to either a hybrid or remote learning model, but at this time we are only preparing. No decision has been made. We will continue to rely on our multiple layers of intervention to prevent spread of the disease. The two reasons we would cancel school would be because of a lack of staffing or a high student absentee rate. We would first ask for advice from DPHN and that make that decision. Please watch for further updates on our website, Facebook page and your e-mail. Andy Boe Superintendent Elkton School District #34