Football game this Friday at 3:00 pm at home vs. Jewell. This is a cross over "play in" game . Admission will be charged at $6 per adult and $4 per child. No passes will be honored as this is a non-league game. See you Friday - Let's Go Elks!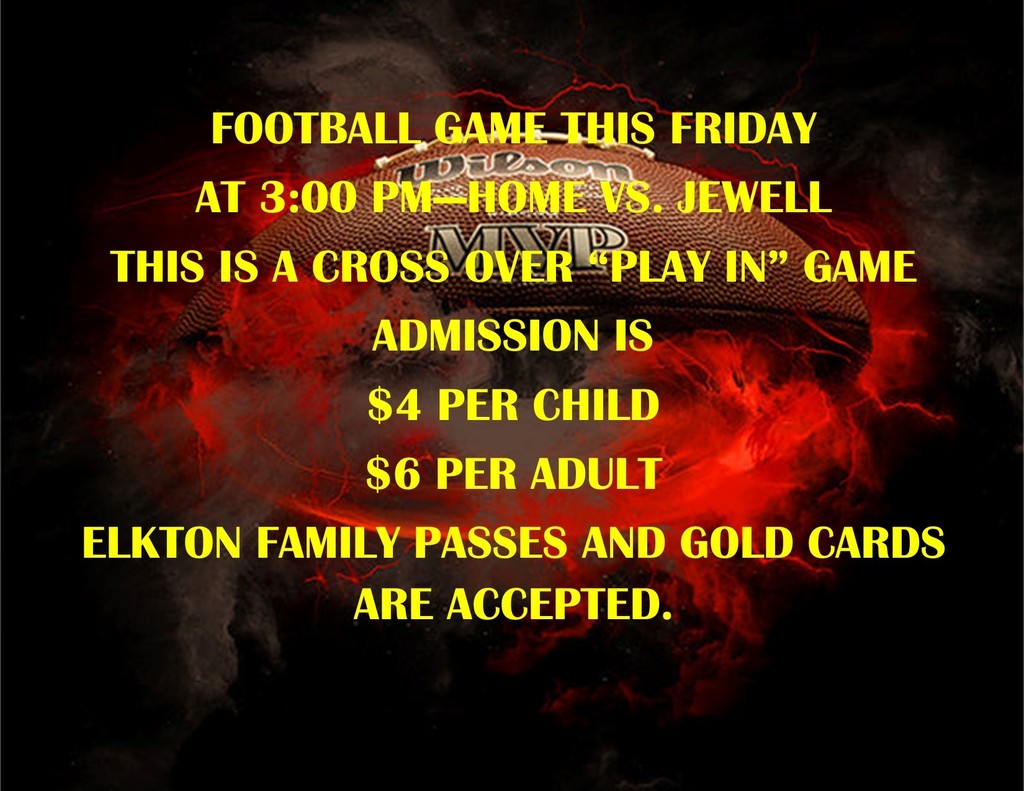 Missoula Children's Theatre will be here! Auditions will be held 10/31 at the GS. All students, K-12, wanting to audition will need a signed permission slip to do so.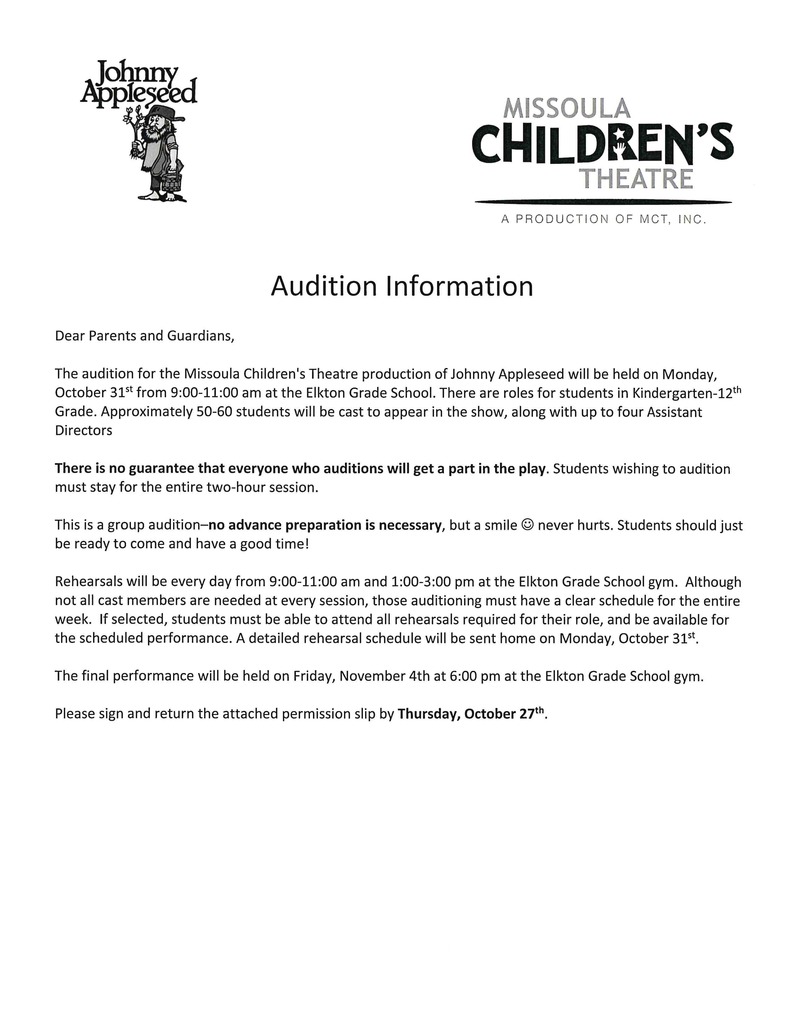 It's Middle School Boys Basketball Time!!! You can find all of the Elkton Charter School sports schedules at
https://www.elkton.k12.or.us/page/athletic-schedules
. Also, by downloading the Elkton Charter School app on Google Play or the Apple Store, you can access Scores and Schedules, Menu's, Event Calendar, Attendance, Live Feed and News.

Events for 10.24-10.29. Have a great week!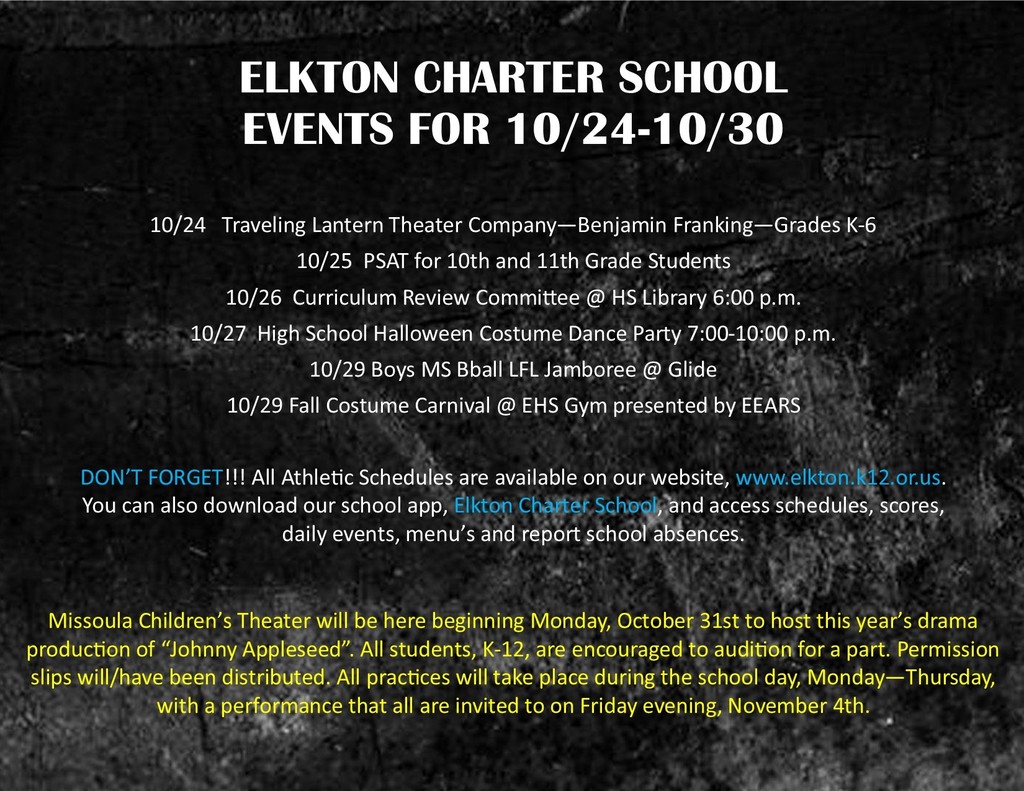 Middle School Boys Basketball Practice - 1st Day - Monday, 10/24!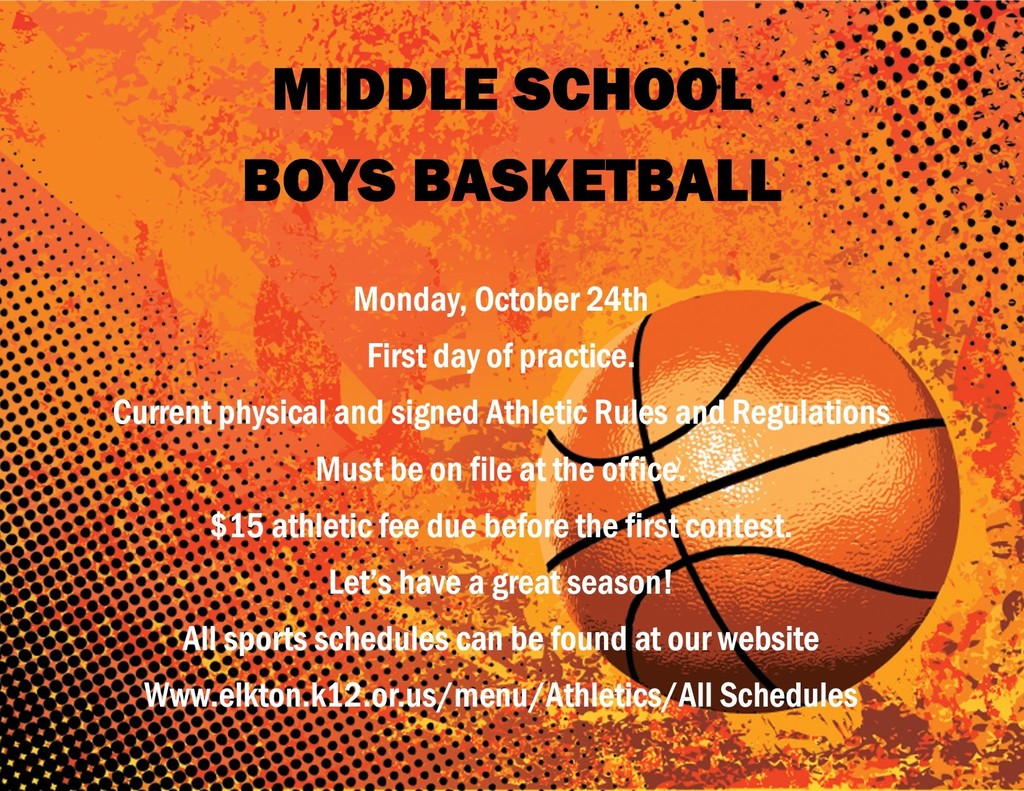 GOOD LUCK to the Middle School AND High School Football Teams as they compete today at North Lake. Middle School will begin at noon and high school will begin at 2:00 p.m. GO ELKS!

HIGH SCHOOL yearbooks are on sale 10% off through October. Order yours now by visiting
www.treering.com/validate
and enter our school's passcode: 1015663455281644. Regular price is $40 but you will receive 10% off by ordering by October 31st.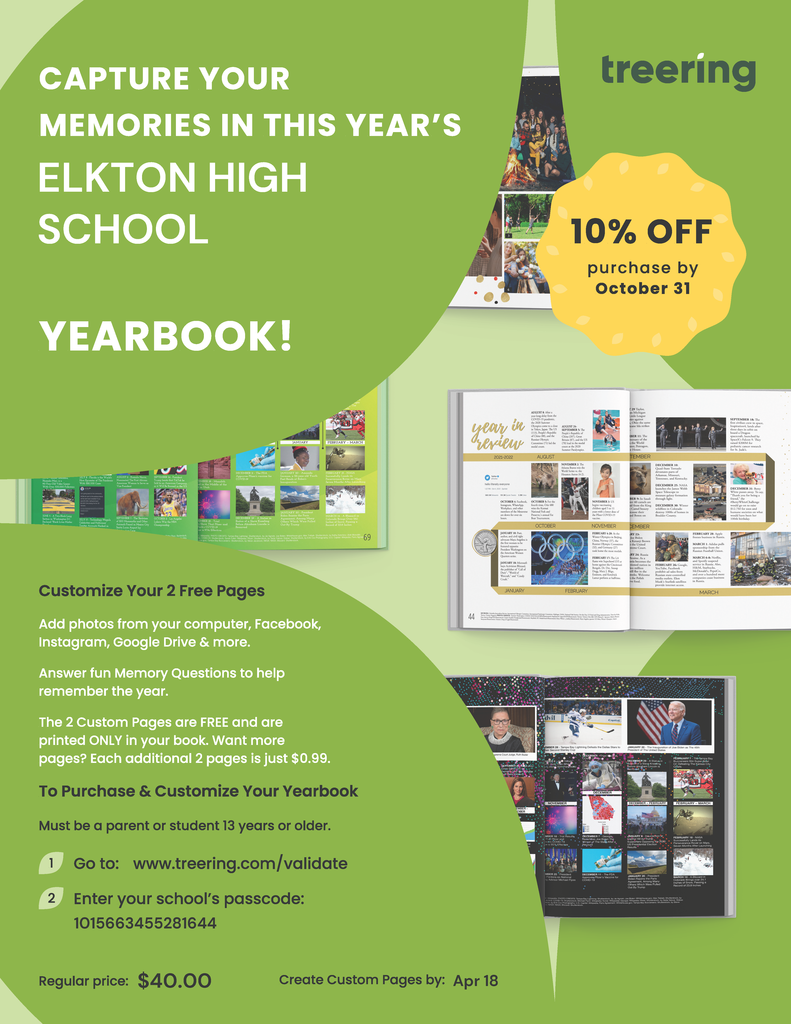 IT'S GAME DAY! Good luck to the EHS Volleyball Team as they play at Days Creek at 6:00 p.m. for the 1st round of District Playoffs! Go Elks!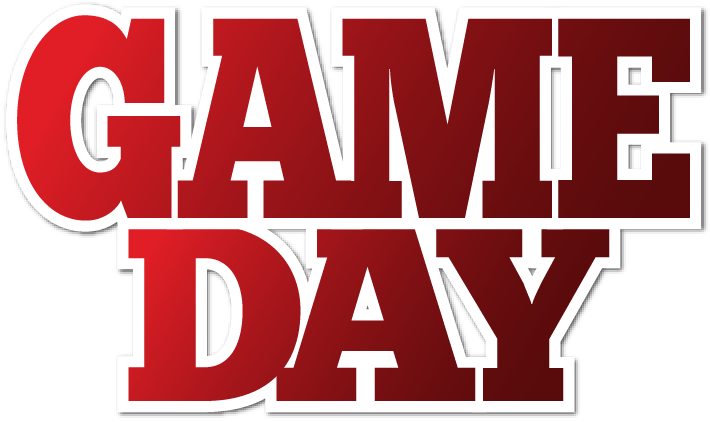 Elkton Grade School will host a Halloween Spirit Week - we hope you join in the fun!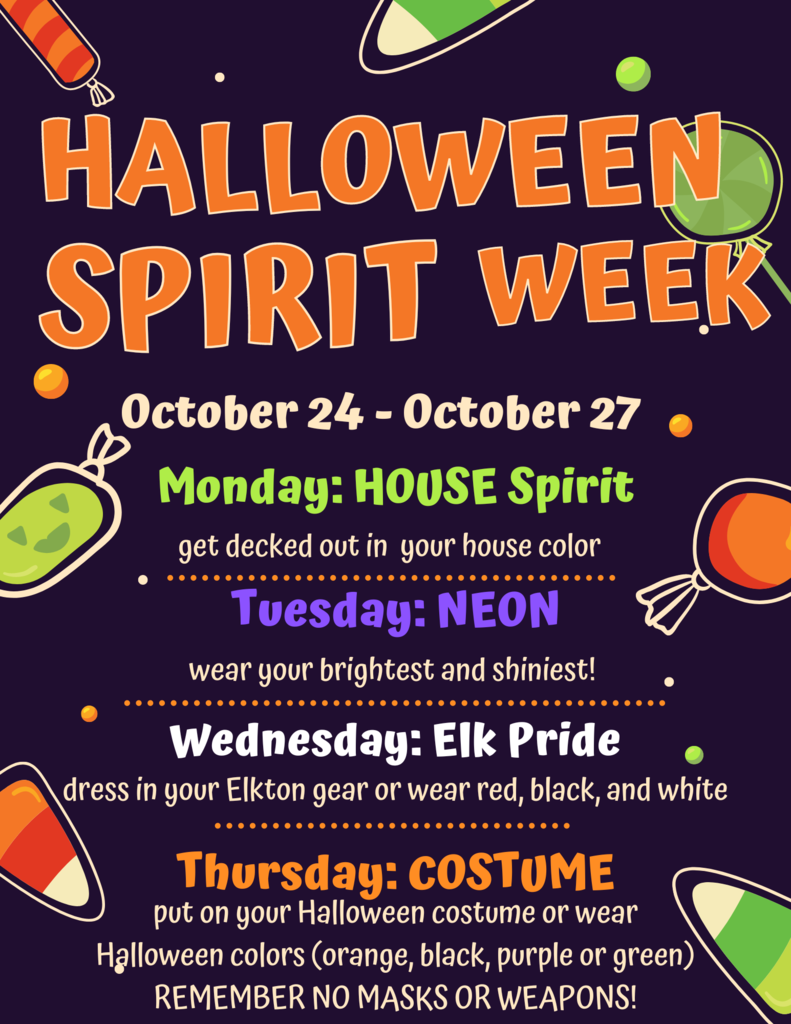 Events for this week 10/17-10/22!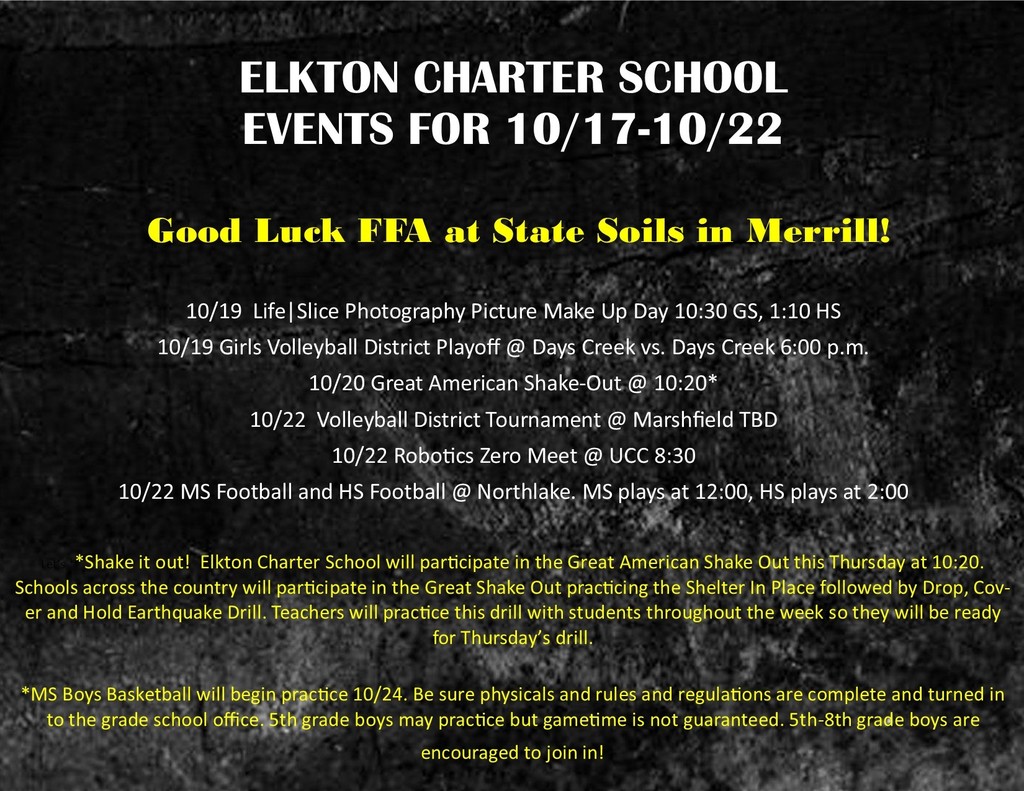 IT'S GAME DAY! Come root on your Elks as the Middle School Football Team hosts Camas Valley today beginning at 3:30 and your High School Volleyball Team will host New Hope beginning at 4:30.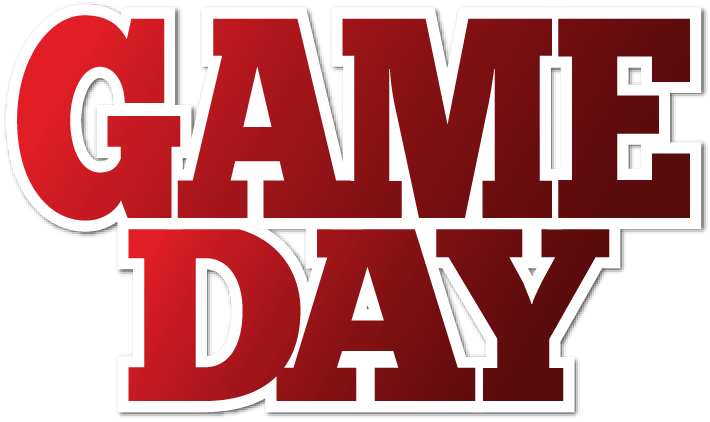 Fall Costume Carnival Oct. 29th!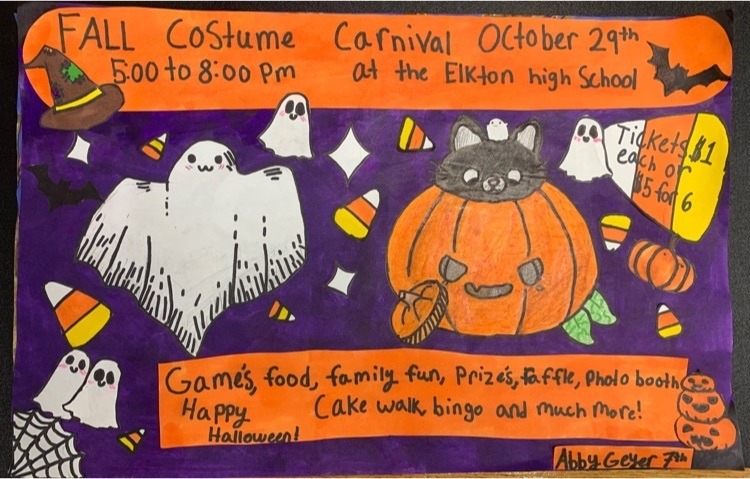 Updated Events for this week.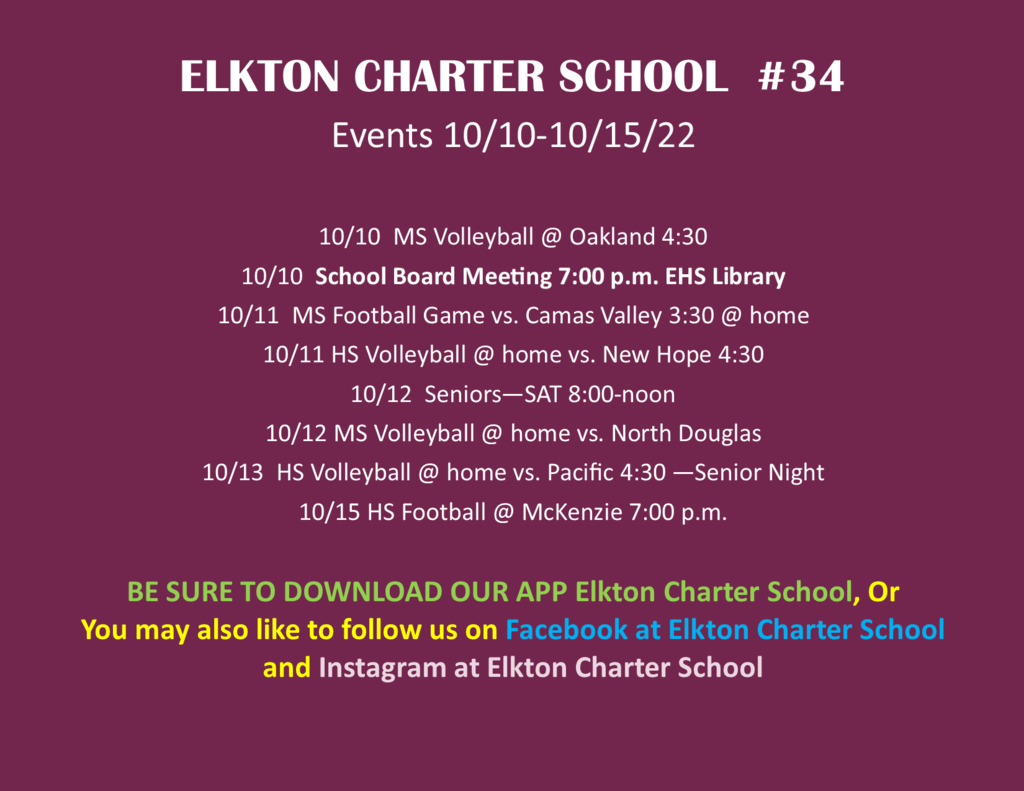 Events for this week! Please notice that there has been a Middle School Football game added and they will play at home tomorrow at 3:30 vs. Camas Valley. Go Elks!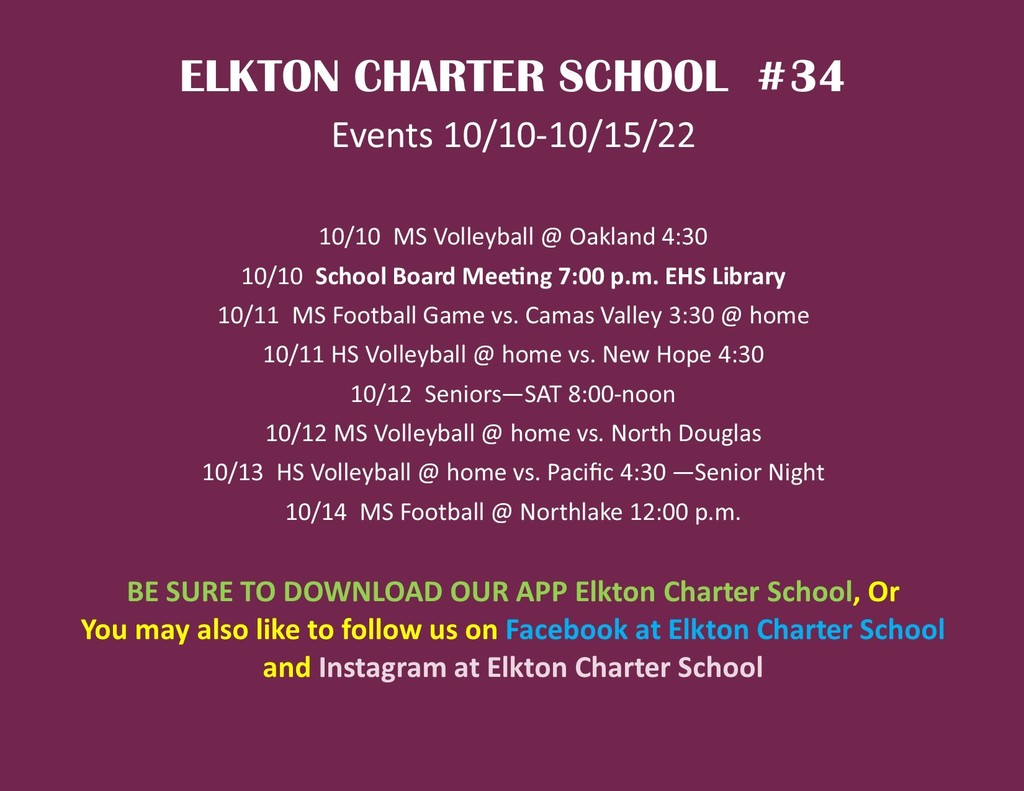 Good luck to our MS Vollebyall Team as they play AT HOME today vs. Glide in our NEW GYM!!! Games begin at 4:30. Good Luck to our JV and Varsity volleyball team as they travel to Camas Valley today for their match. Players can be released at 1:30 for a 1:45 departure. The JV match will begin at 4:30. Good Luck to our HS Football team as they host Riddle for our homecoming match up tomorrow. Seniors and their parents will be honored prior to the game at 3:00 pm. The homecoming court will be presented at halftime. Come support our teams!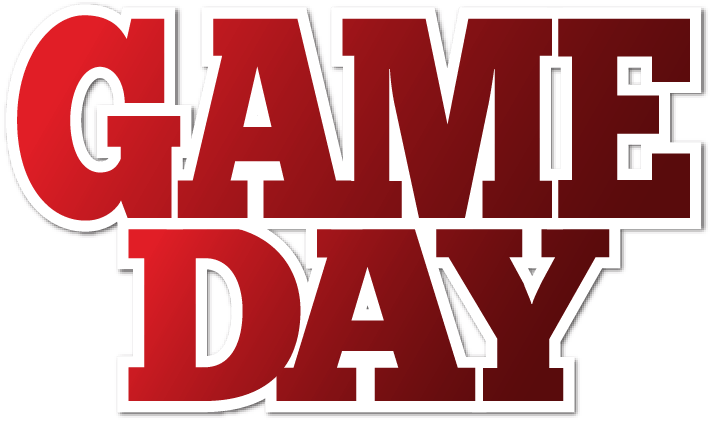 3 on 3 Tourney! Sign your team up!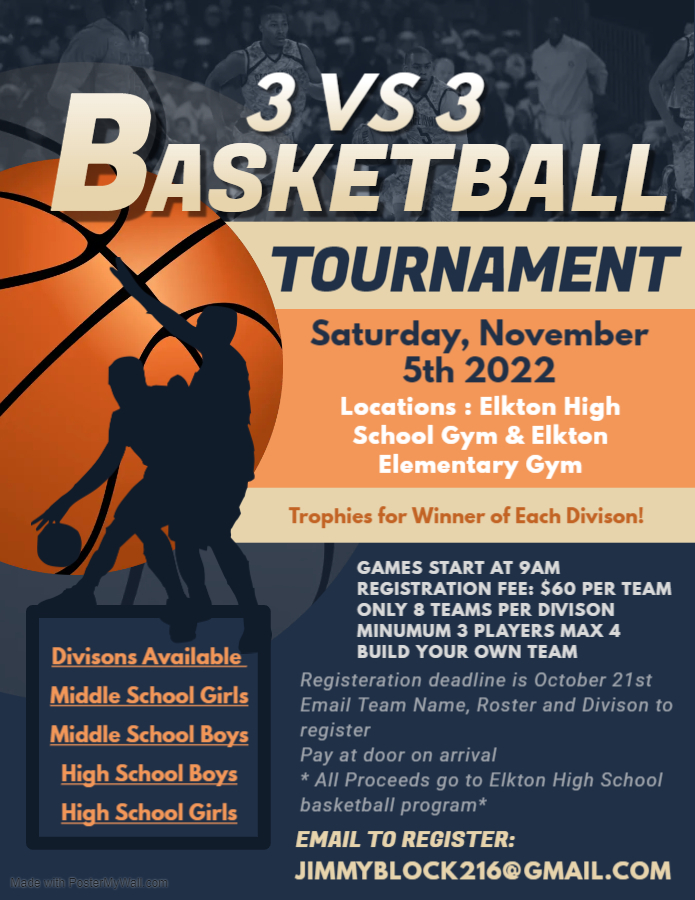 GOOD LUCK to our High School Volleyball team as they play at Yoncalla at 6:00 tonight and to our Middle School Football team as they compete at Riddle beginning at 4:30. Go Elks!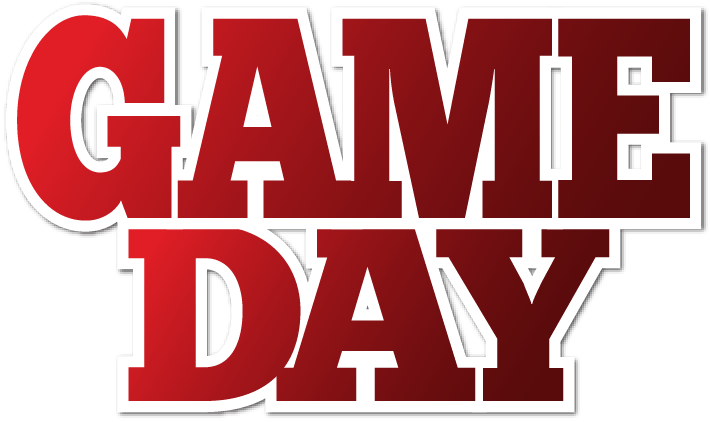 Come join us at the FFA Alumni Dinner & Auction this Wednesday, October 5th in the EHS Gymnasium. Doors open at 5:30 p.m. $10.00 per person for an amazing dinner. Live and silent auction. All are welcome to come and have a great evening.

Events for the week of 10/3-10/8!