ORDER YOUR HIGH SCHOOL YEARBOOK!! Deadline for online ordering is April 14. Cost is $40.00. The school's passcode is 1015663455281644. Please purchase by visiting
www.treering.com/validate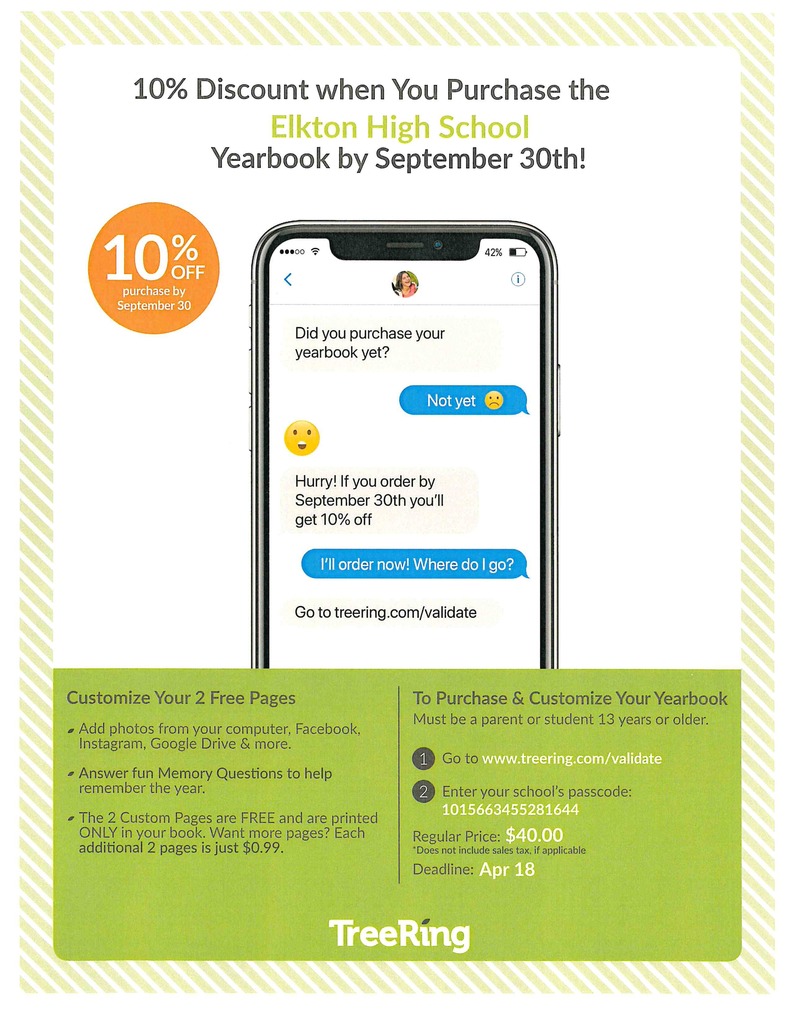 THANK YOU to our Classified Employees for their dedication to supporting the education of our students. We appreciate you! HAPPY CLASSIFIED EMPLOYEES WEEK!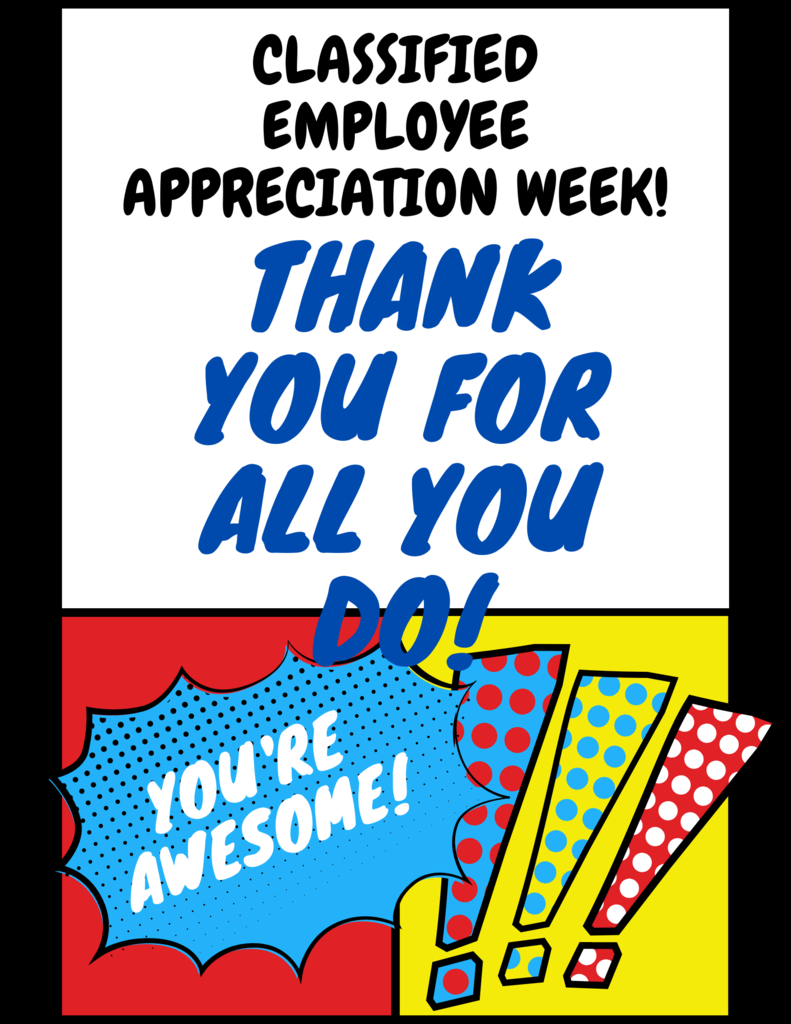 Elkton School District on 2 hour delay due to road conditions. We will update as conditions warrant.

The Elkton Grade School is celebrating Literacy Week 2/27-3/2! We hope that all students K-8 will participate and have a great time! Thursday is "Reading Rainbow" day. Please notice the grade's specific color that's noted on the flyer. Happy Literacy Week!

The Elkton School District is operating on normal schedule today, 2/24/22.

GOOD LUCK CYBERNETIC ELKS!! State Competition this weekend! We're proud of you. Let's Go Elks!

Elkton schools are closed today due to hazardous road conditions. 2/23/23.

The Elkton School District is on a 2 hour delay today, 2/23/23. We will update as conditions warrant.

CONGRATULATIONS February Student of the Month Harold Woods!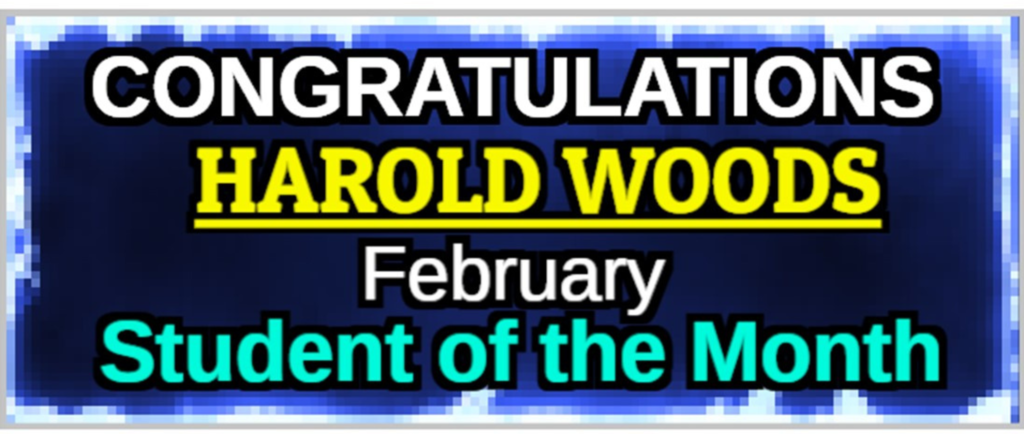 OSAA State Championships - Get your Tickets Online. All admissions to the OSAA State Playoff and Championship games are priced at $10.00 per adult and $6.00 per student. Payment is accepted at the door, or you may choose to scan the QR code in this flyer and pre-purchase your tickets.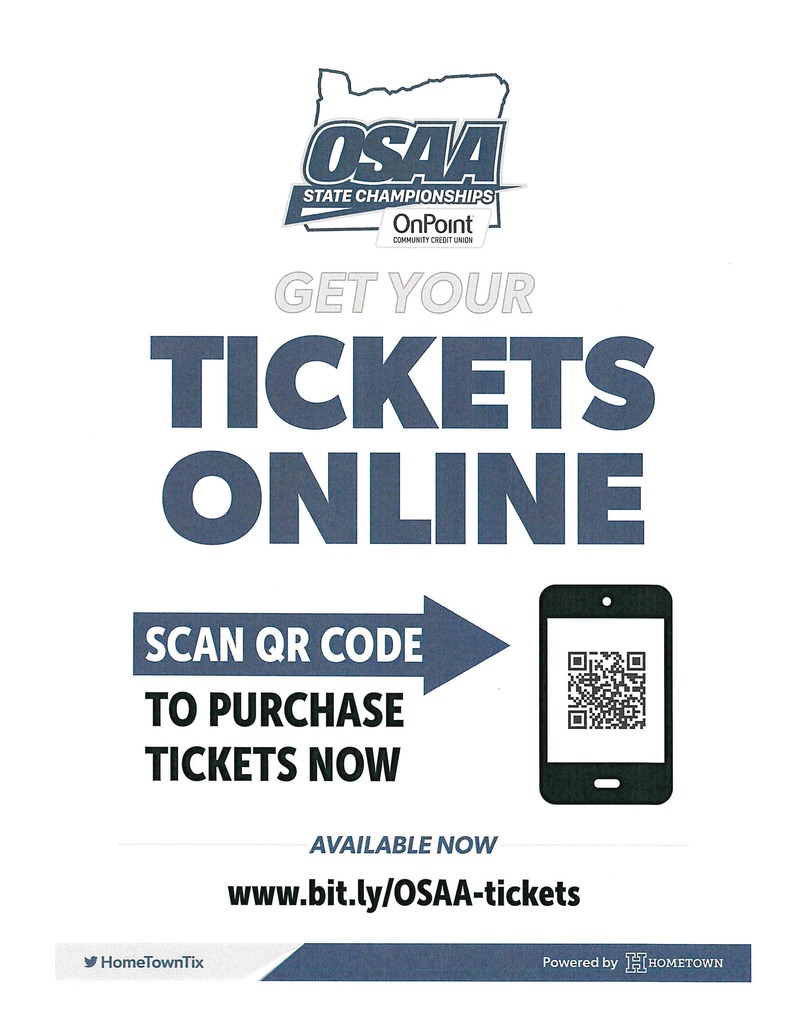 IT'S GAME DAY! Our Elkton High School Boys Basketball Team will play the first round of state playoffs today at Alsea beginning at 6:00 p.m. Come root on your Elks!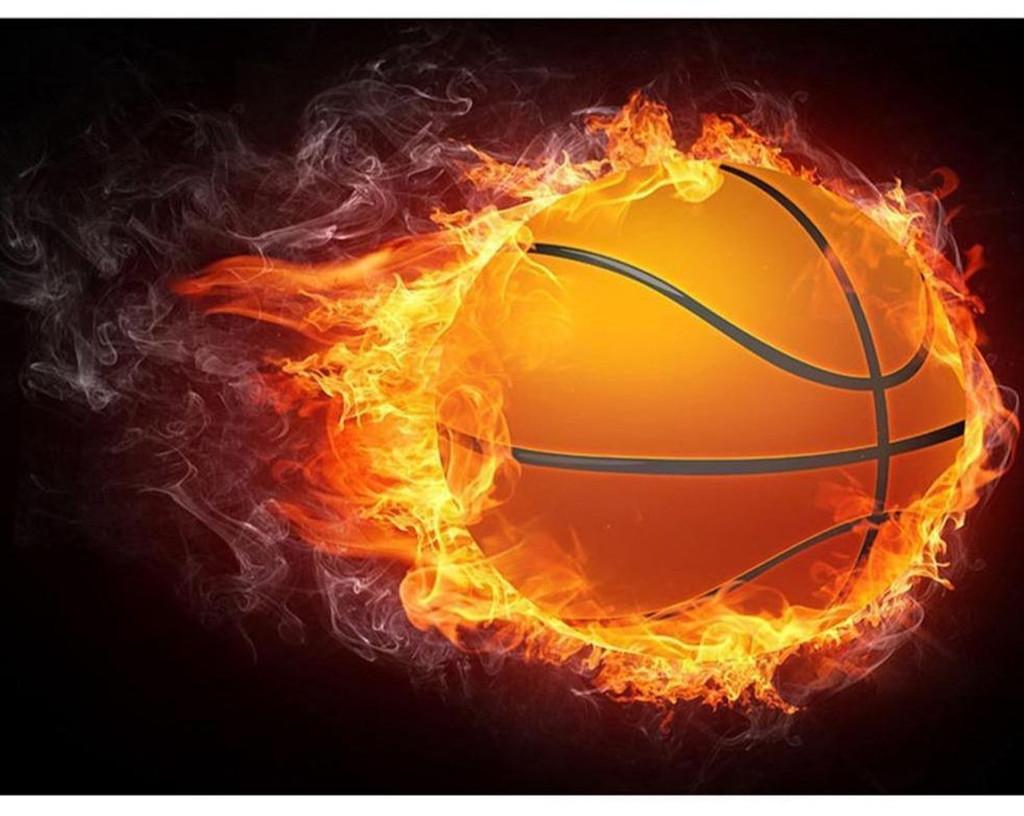 Today's Middle School Girls "A" Team basketball game vs. UVC will begin at 4:30 and will be played at the elementary school gymnasium.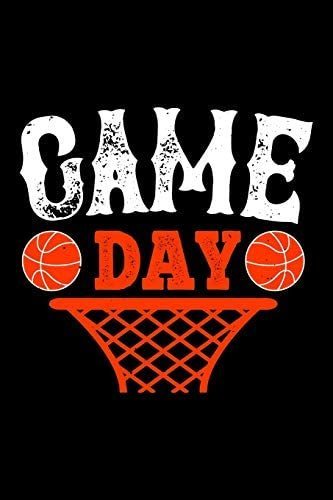 Elkton Schools went into Lock down this morning due to a non-specific county wide threat. As of now the Lock Down has been lifted. Many thanks to the Douglas County Sheriff's department for responding quickly and helping to coordinate the effort.

We will remain in lockdown for a non specific threat by order of the Douglas County Sheriff. Lockdown means that students remain in classrooms with doors locked. No one is allowed in or out of the building. We will update as conditions warrant.

Law Enforcement has asked the Elkton School District to Lock Down all school facilities. This is a precaution. We will update as information becomes available.

UPDATE: Today's Game will be "A" Team only beginning at 4:30. T'S GAME DAY! Middle School Girls Basketball Team will host UVC today at 4:30! Let's Go Elks!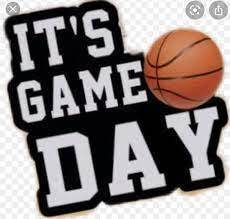 Events for the week of 2/20-2/26! GOOD LUCK to our Cybernetic Elks at State!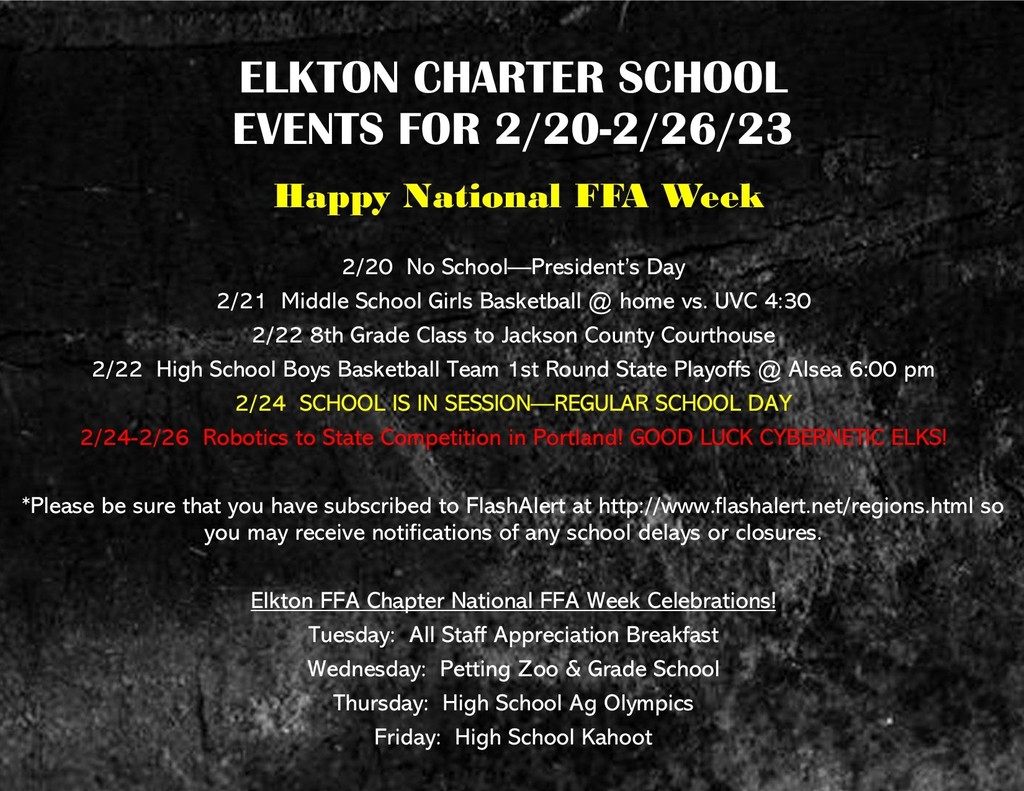 Good luck to our Middle School Girls Basketball Team as they play at the Little Fir League "B" Team Tournament at Yoncalla High School!

IT'S GAME DAY! Good luck to our Boys Basketball Team as they play in the Skyline League District Tournament at North Bend High School today. They will play at 4:30 vs. North Douglas. Come root on our Elks! Go Big Red!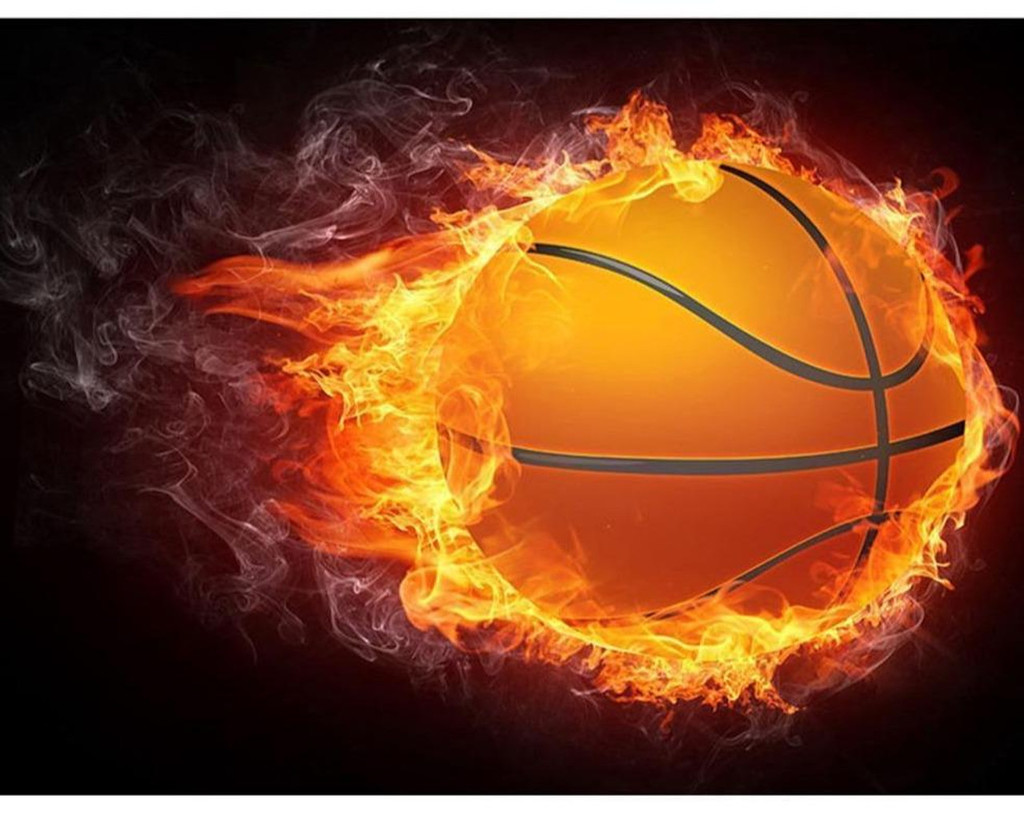 Congratulations to our FFA members for a job very well done today!