HIGHWAY FLASHING LIGHT - We are aware that the flashing light in front of the Elkton Elementary School is not working and we have reached out to ODOT. We appreciate everyone exercising caution within the school zone.

The baseball game scheduled for today has been canceled due to weather. The baseball team will have practice at 4:00, location to be determined.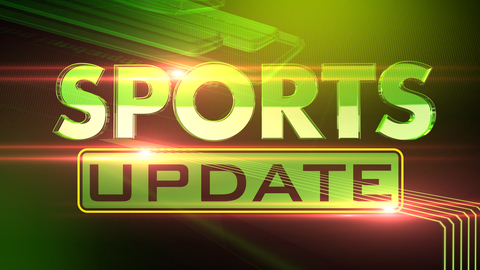 CONGRATULATIONS Abby Perrone and Good Luck At State!! On March 11th, OMEA District 10 held a Solo and Ensemble contest for middle and high school students who have decided to take the time to rehearse a piece outside of their normal band or choir repertoire, either by themselves or with a small group of individuals. Abi Perrone from Elkton performed her solo, Petite Piece Concertante, with Patty Wilgus accompanying her on piano. After being judged and coached by a brass musician and educator, Abi received 1st place for her instrument category, a state qualifying score, and secured her spot for the state level solo competition taking place in Beaverton in April.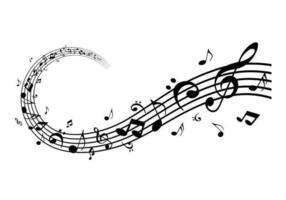 CONGRATULATIONS to this INCREDIBLE group of athletes! The North Umpqua Unified Basketball Team are the Oregon Champs!! WAY TO GO!! We are so proud of you! Play Unified, Live Unified.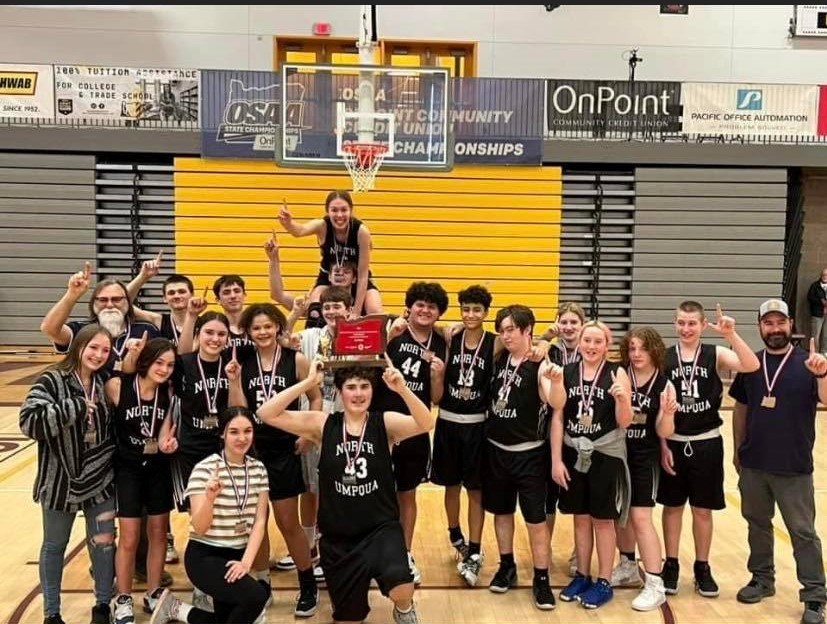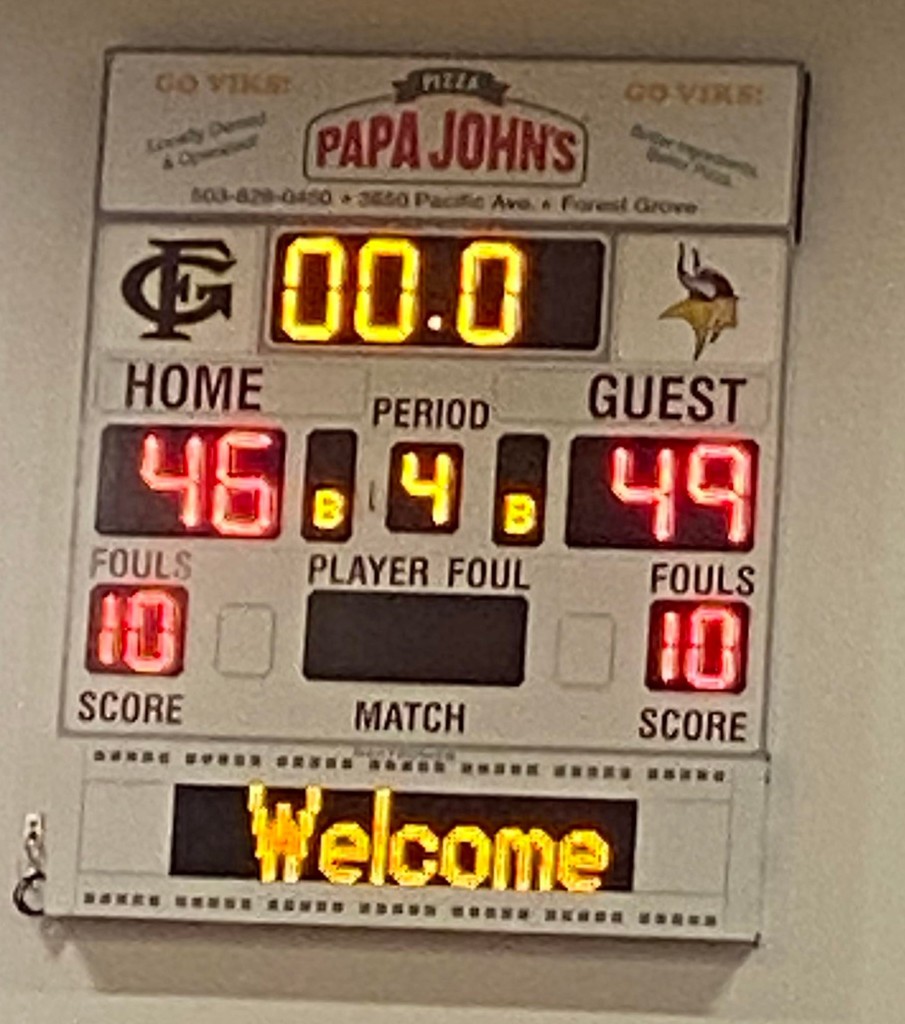 On Thursday, March 16, 6:30 p.m., a handful of community members plan to meet in the 7th grade room to incorporate Elkton Boosters as a new non-profit. Any interested community members are welcome to attend.

Elkton Charter School events for the week of March 13-March 19th.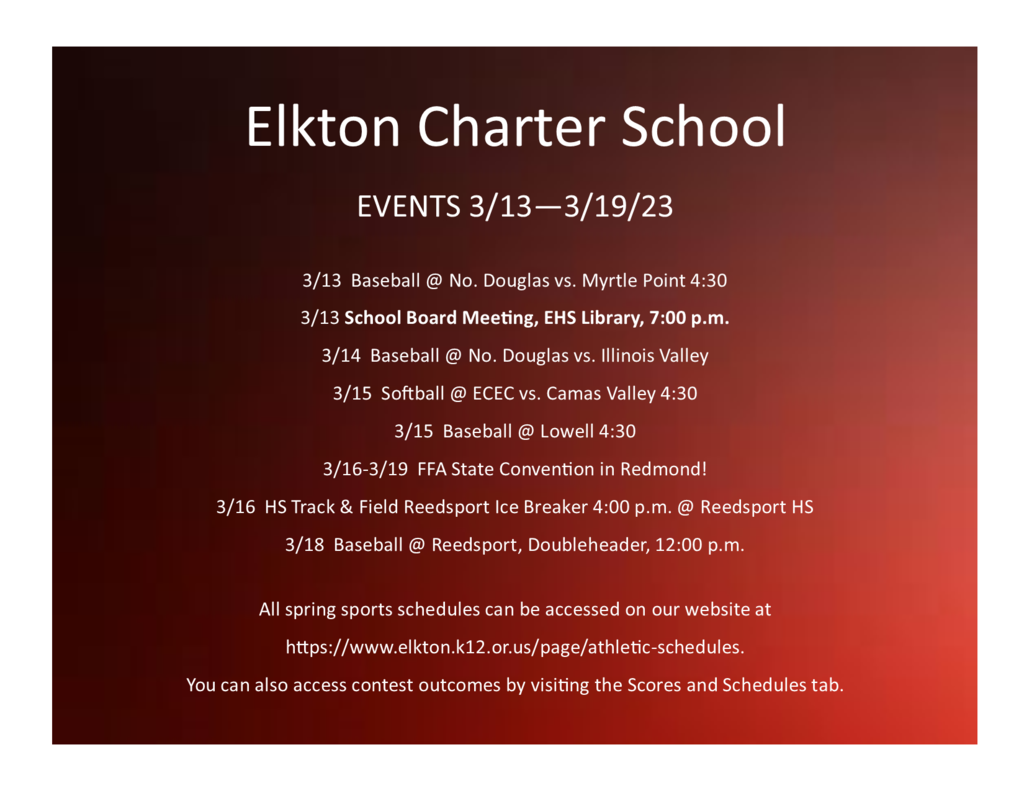 GOOD LUCK to the Unified Club Basketball Teams as they compete in Forest Grove Friday and Saturday!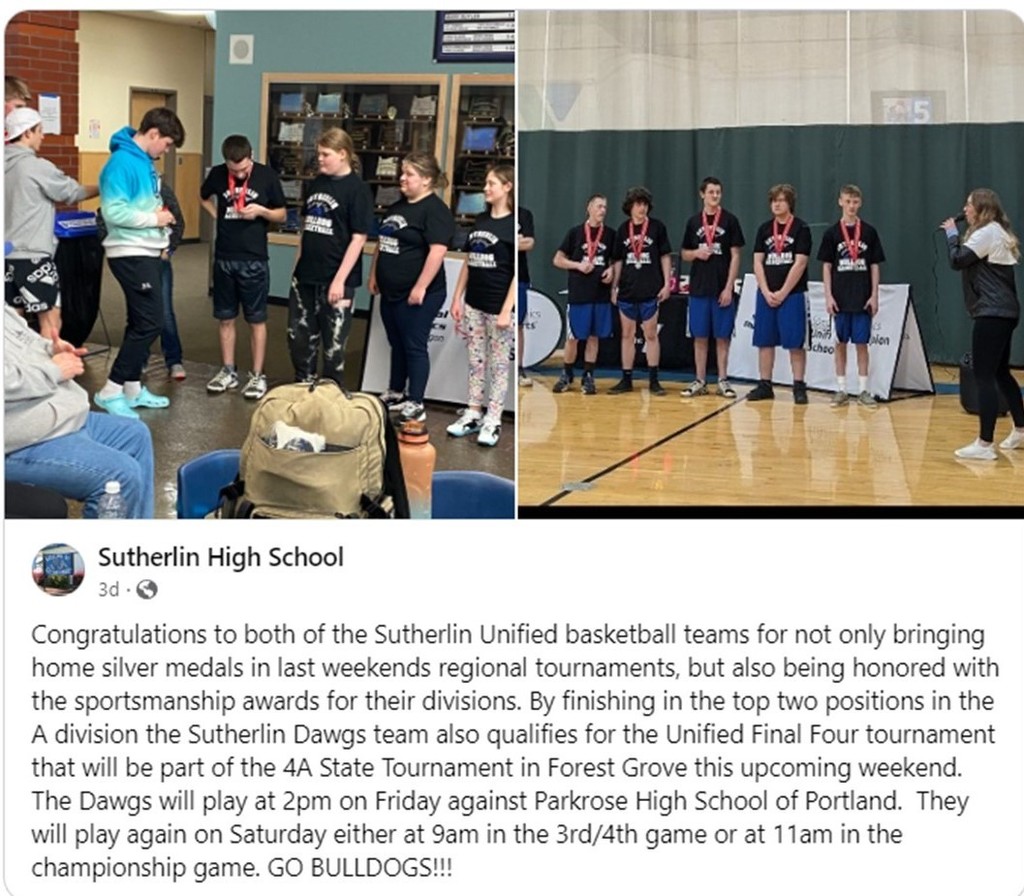 ​CURRENT 6TH - 11TH GRADERS the Elkton Cybernetic Elks need YOU! We learn about Robotics, Engineering, Java Programming in Android Studio, CAD Design and 3D Printing, Teamwork, Outreach, Social Media and Videography. This year, we made it to Oregon State Championship! Next year, we are trying for Worlds in Houston! Sign up today and be part of a great team! Email or call if you need more information:
Elktonftcrobotics@gmail.com
, Coach Cynde Pakros 541-733-7284. ​Follow us on Facebook - Cybernetic Elks #9567, Instagram - cyberneticelks9567, Youtube - Cybernetic Elks FTC 9567

ORDER YOUR HIGH SCHOOL YEARBOOK!! Deadline for online ordering is April 14. Cost is $40.00. The school's passcode is 1015663455281644. Please purchase by visiting
www.treering.com/validate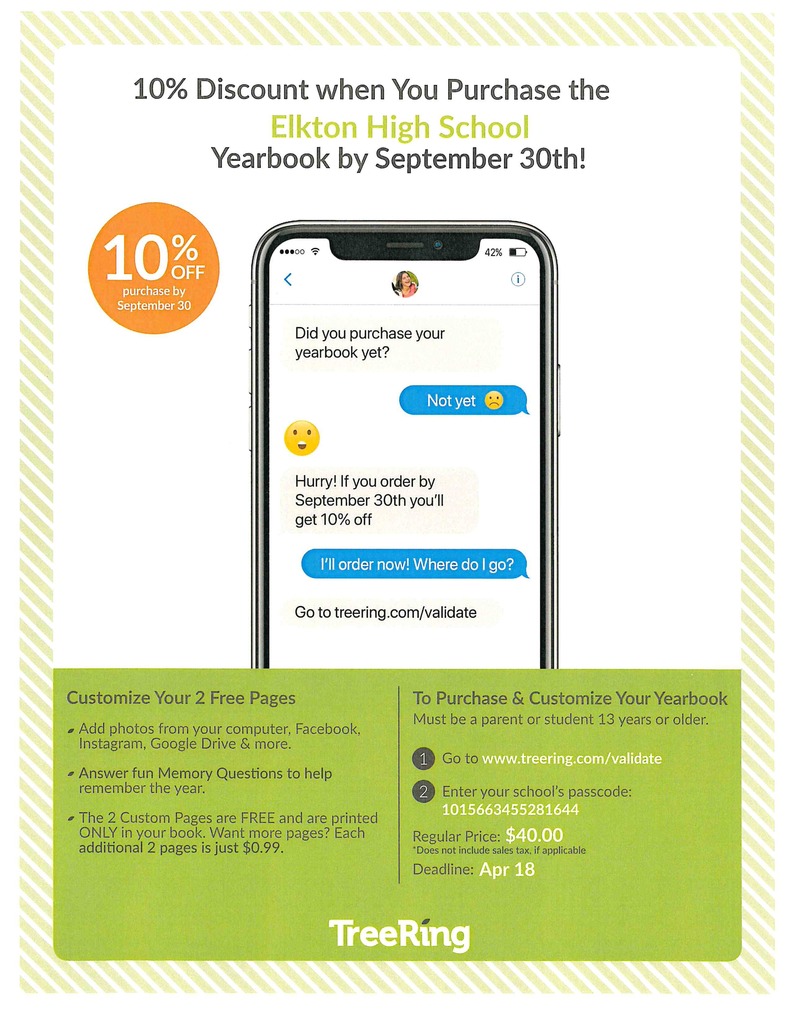 THANK YOU to our Classified Employees for their dedication to supporting the education of our students. We appreciate you! HAPPY CLASSIFIED EMPLOYEES WEEK!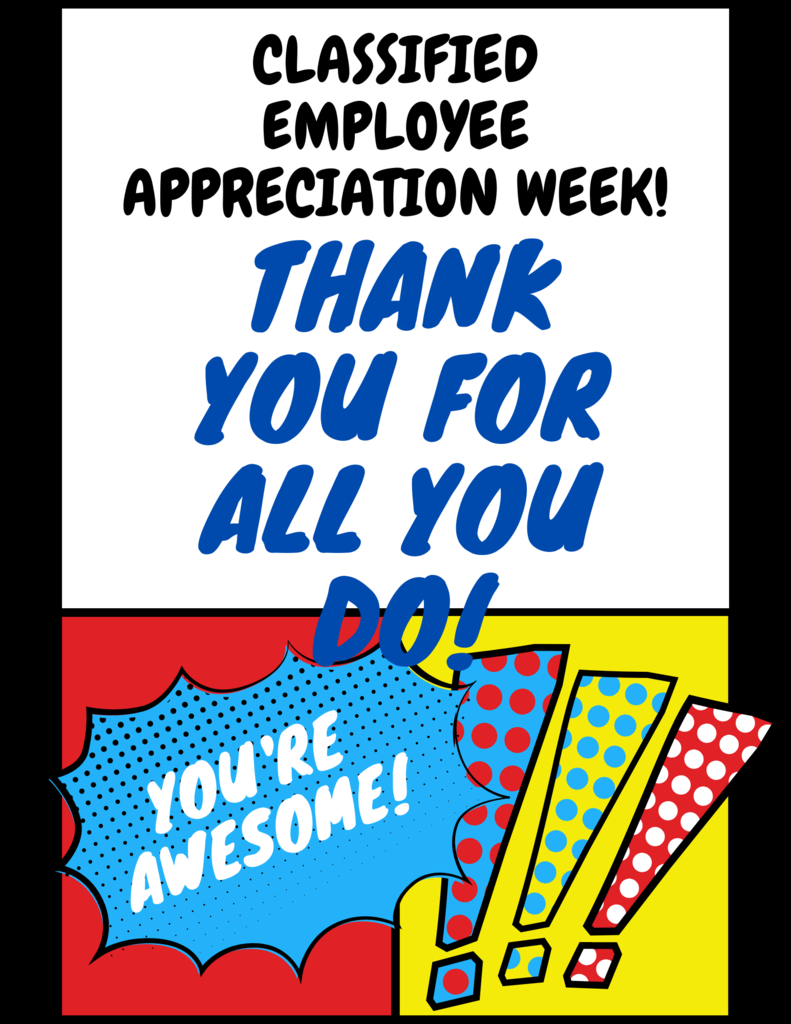 Elkton School District on 2 hour delay due to road conditions. We will update as conditions warrant.

The Elkton Grade School is celebrating Literacy Week 2/27-3/2! We hope that all students K-8 will participate and have a great time! Thursday is "Reading Rainbow" day. Please notice the grade's specific color that's noted on the flyer. Happy Literacy Week!

The Elkton School District is operating on normal schedule today, 2/24/22.

GOOD LUCK CYBERNETIC ELKS!! State Competition this weekend! We're proud of you. Let's Go Elks!

Elkton schools are closed today due to hazardous road conditions. 2/23/23.

The Elkton School District is on a 2 hour delay today, 2/23/23. We will update as conditions warrant.

CONGRATULATIONS February Student of the Month Harold Woods!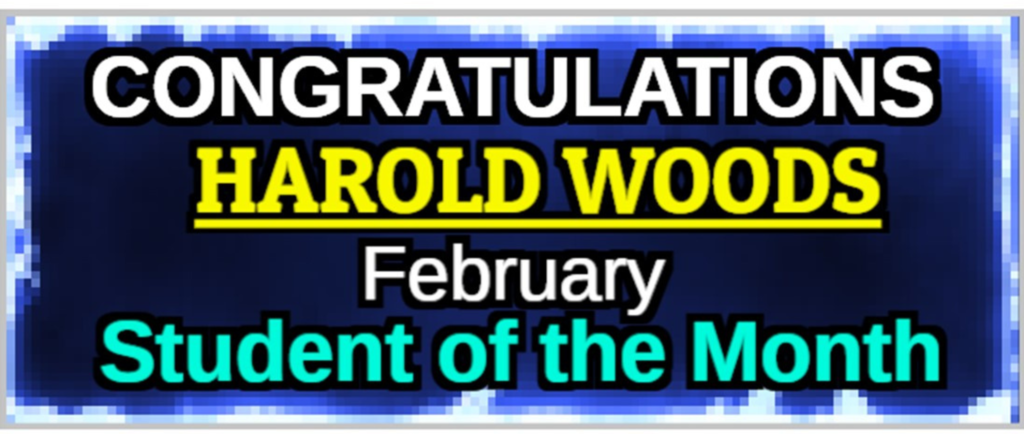 OSAA State Championships - Get your Tickets Online. All admissions to the OSAA State Playoff and Championship games are priced at $10.00 per adult and $6.00 per student. Payment is accepted at the door, or you may choose to scan the QR code in this flyer and pre-purchase your tickets.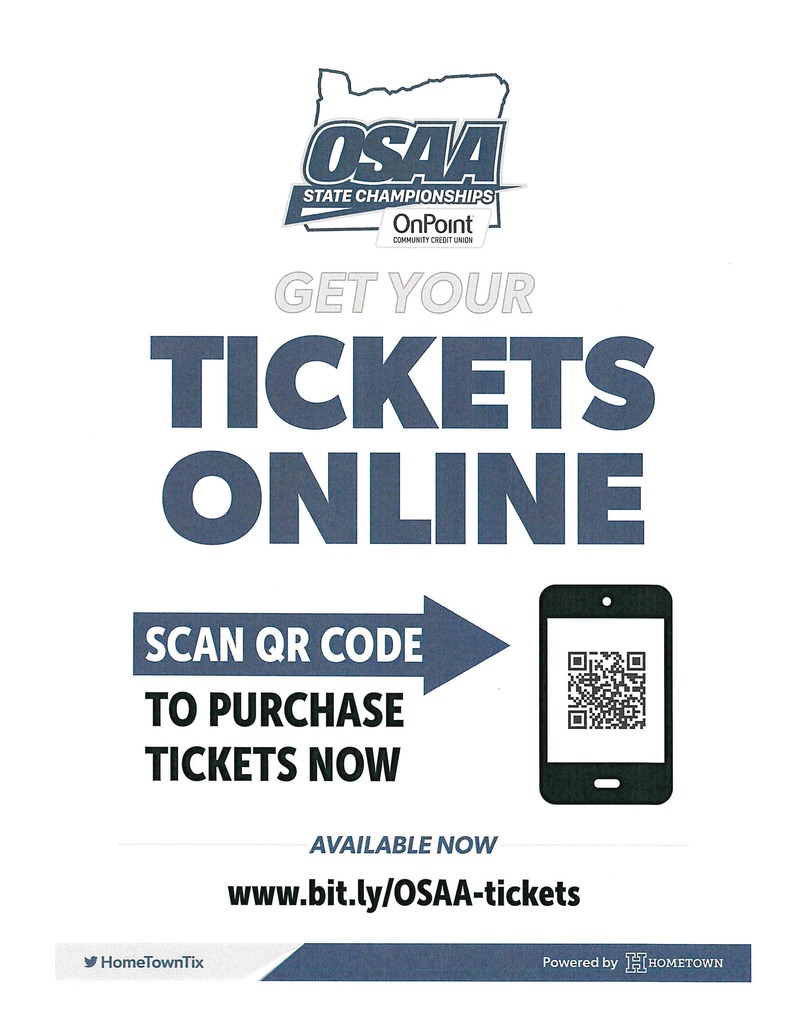 IT'S GAME DAY! Our Elkton High School Boys Basketball Team will play the first round of state playoffs today at Alsea beginning at 6:00 p.m. Come root on your Elks!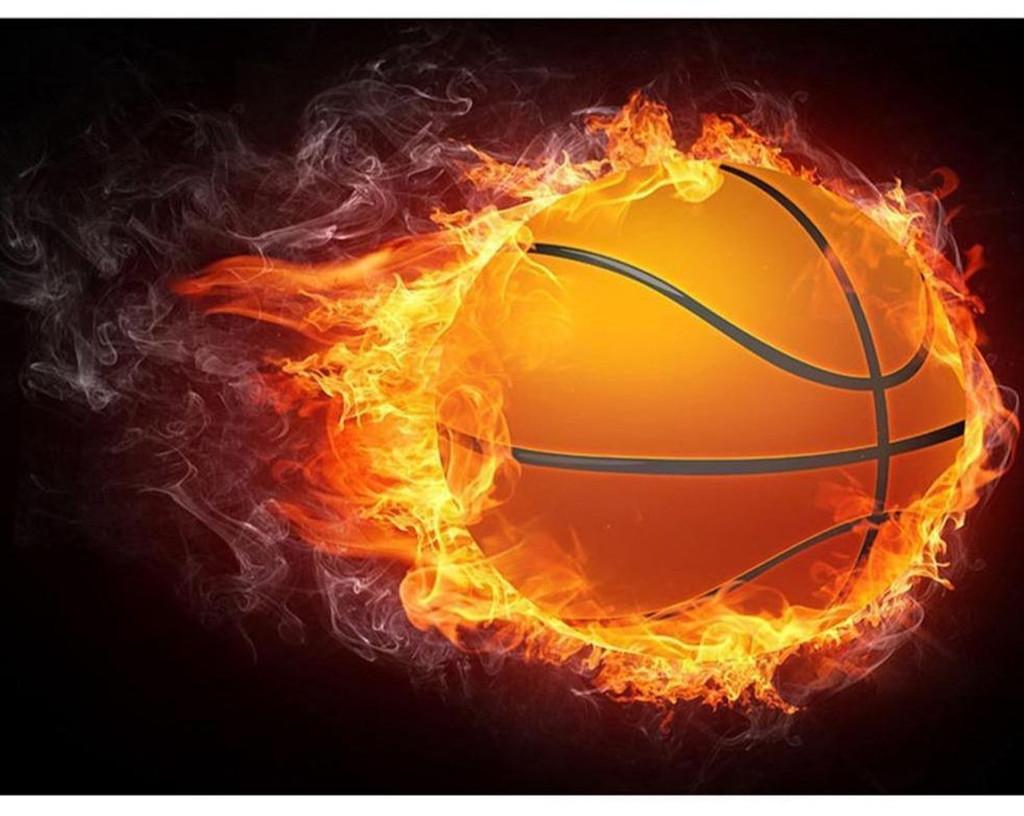 Today's Middle School Girls "A" Team basketball game vs. UVC will begin at 4:30 and will be played at the elementary school gymnasium.