Our community has done it again. WOW! Thank you so much to our local businesses: Elkton Community Education Center, Elkton Bible Baptist Church, Tomaselli's Pastry Mill, Brandborg Vineyard and Winery, Bradley Vineyard, Rivers Edge Winery, Farm Pickins, Riverbank Speedy Mart, Kellogg Grange, Douglas County Christmas 4 Kids, our local gift buying heroes (you know who you are) and so many amazing private donors, students and parents who gave to this program. We raised $2,000 and provided food and household necessities to 12 local families as well as gifts provided through local heroes and Christmas 4 Kids of Douglas County to 44 children in our school community. This is truly an all hands on deck effort and it is such a beautiful thing to see come together. Thank you everyone for your support and for making the holidays a little brighter for so many. Happy Holidays.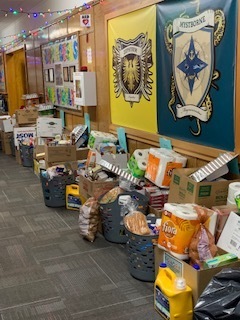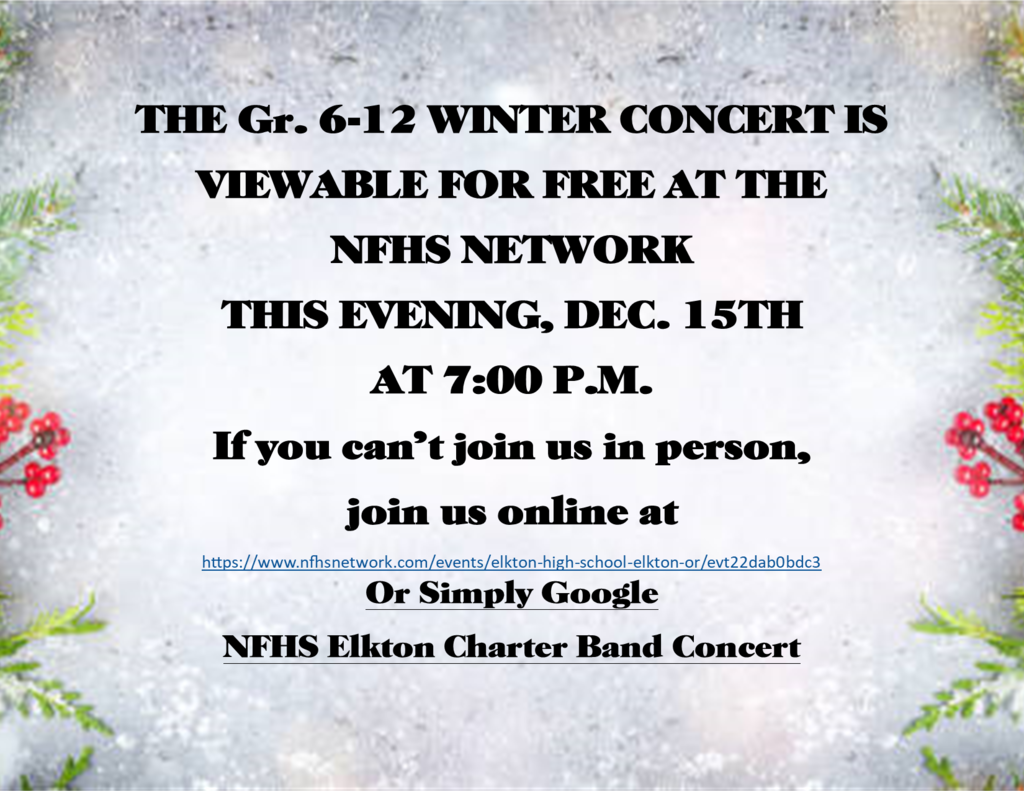 If you can't join us in person tonight, perhaps you would like to join us online! Google NFHS Elkton Charter School Band Concert and watch our K-5 perform at the Winter Concert this evening at 7:00 p.m.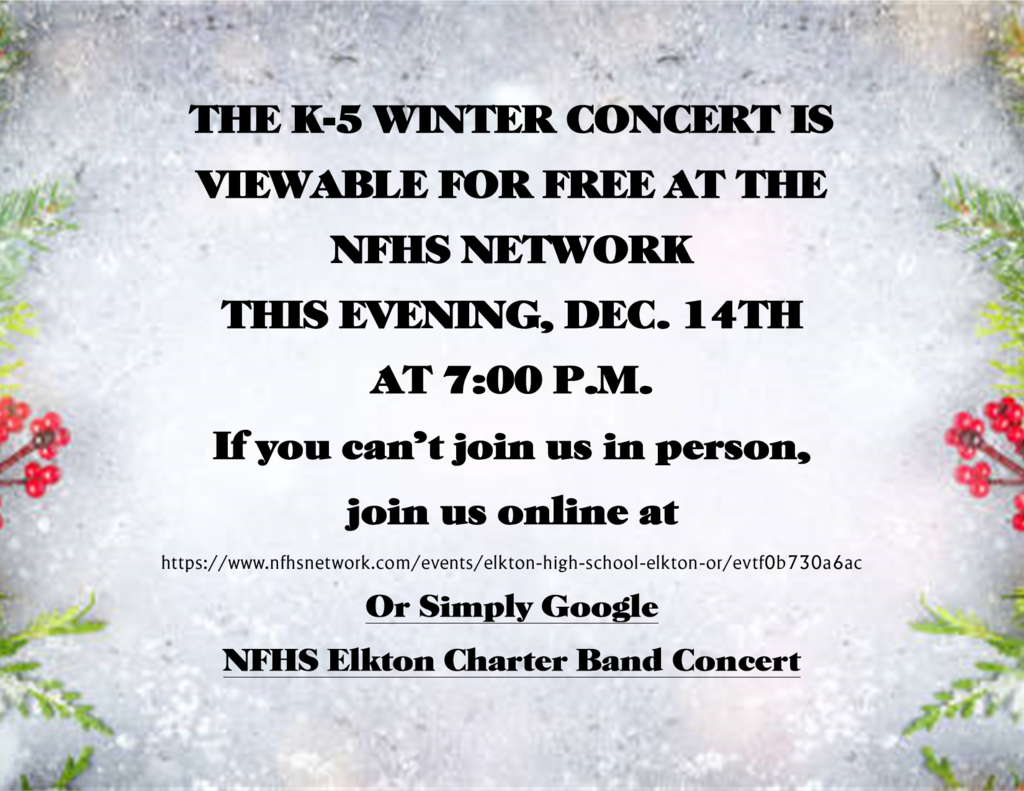 Our winter concerts this Tuesday and Wednesday have been moved indoors at the Elkton High School. Mask wearing is mandatory. If anyone in your house does not feel well please keep the entire family home.

Elkton School Board meeting tonight via Zoom 7 p.m. Meeting ID: 860 9918 9129 Passcode: Elkton1

Elkton Charter School events for 12/13-12/31/21.

This week at the grade school!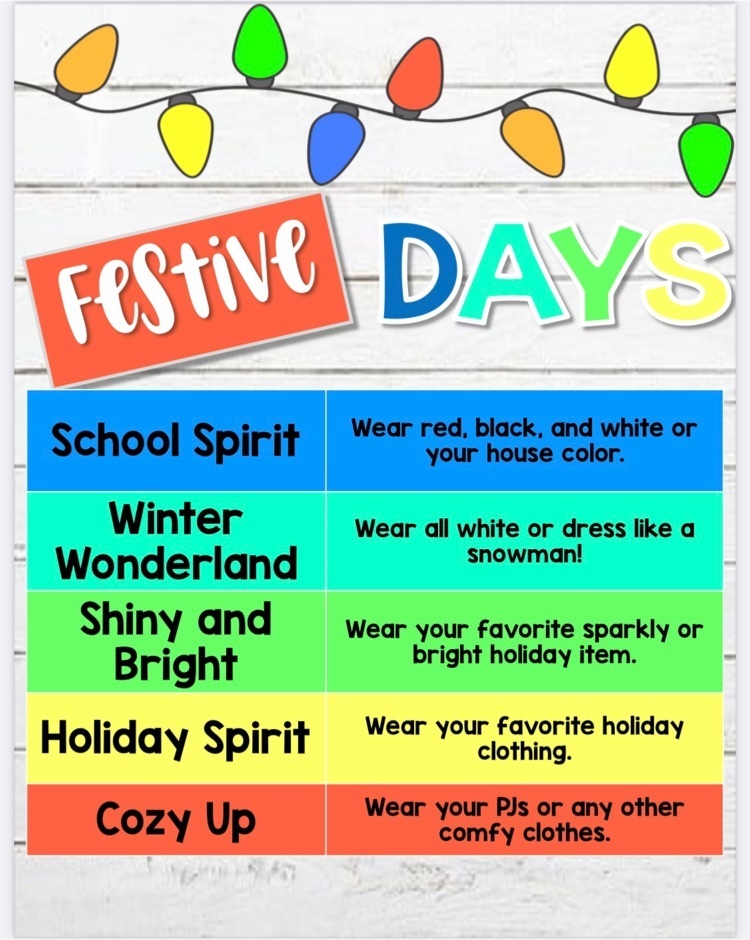 Hi all, We have learned that Synergy is not accurately displaying Progress 2 grades because Canvas only recognizes Quarters and Semesters. There is an easy fix for both students and parents: click on the arrow on the right side of grading period and toggle to the Semester 1 grading period, and all assignments and grades will appear. This photo should help: It will then change your view to Semester 1, which has accurate information.

Events for this week. Elkton Charter School Events for 12/6-12/11 12/6—Flu Shot Clinic 1:30-4:30 Aviva Health @ Upper High School Parking Lot 12/6 MS Basketball @ home vs. Glide 12/7 HS Basketball @ home vs. Lowell JV & V 3:00, 4:30, 6:00, 7:30 12/8 MS Boys Bball @ home vs. Yoncalla A team only 4:30 12/9 EARLY RELEASE FOR ALL STUDENTS AT 12:30 P.M. FOR CONFERENCES 12/10 A.M. Conferences by appt. 12/10-12/11 HS BBALL CONDON TOURNAMENT VG, VB 12/11 Cybernetic Elks Robotics Competition at South Umpqua H.S.

Get ready for a wonderful Winter Band Concert! Come join us for our Winter Band Concert. Bundle up and enjoy the music that our students have worked so hard preparing. December 15, 2021 at 7:00 p.m. ELKTON GRADE SCHOOL PLAYSHED (Students arrive at 6:45 p.m. in Concert Attire)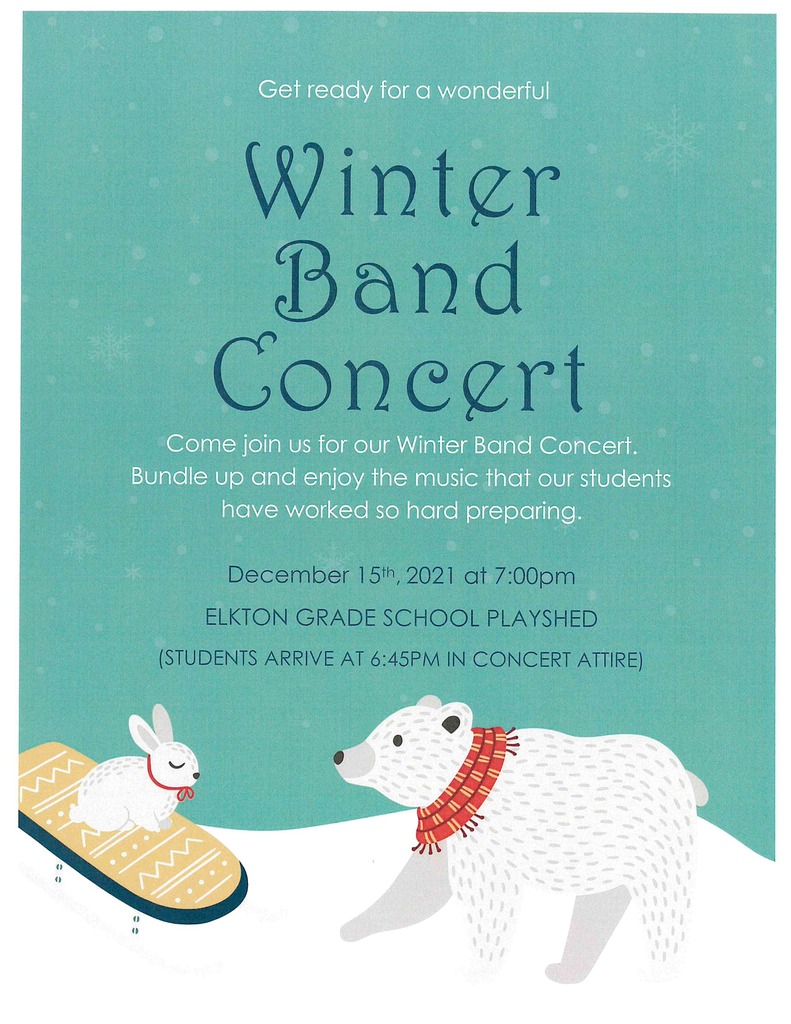 Friday, December 3rd will be a regular school day. We look forward to seeing all students!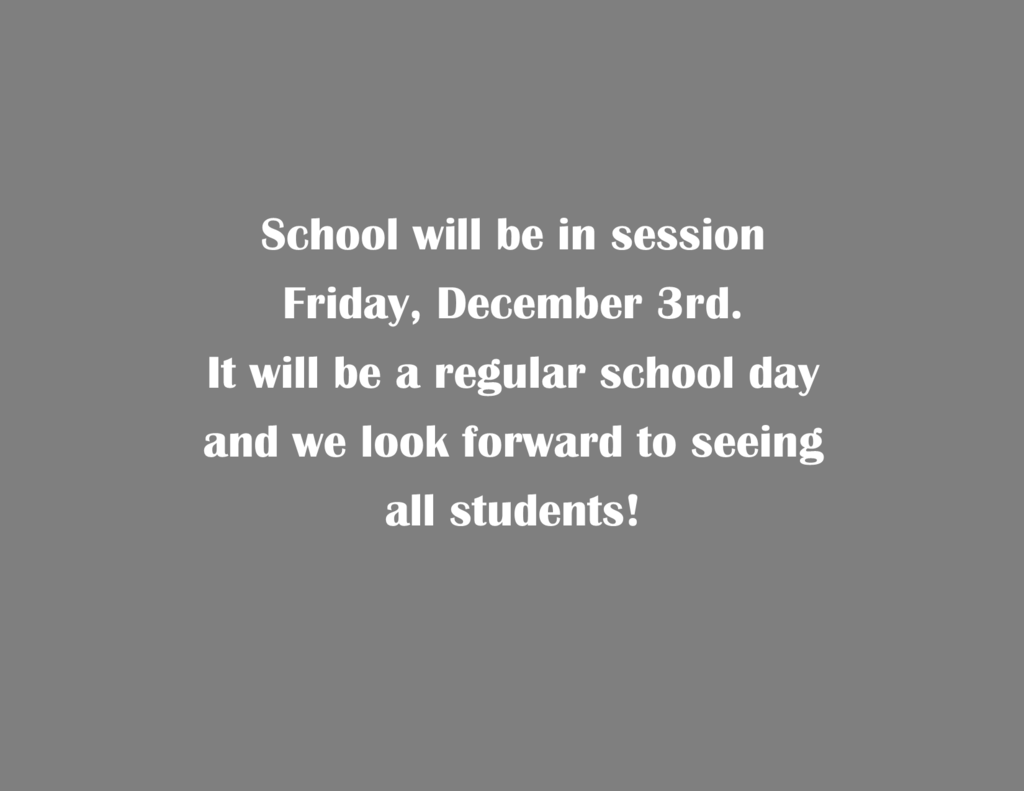 Get ready for a wonderful K-5 Winter Concert Come join us for our annual grade school concert. Bundle up and enjoy the music that our students have worked so hard preparing. December 14th, 2021 at 7:00 p.m. ELKTON GRADE SCHOOL PLAYSHED (Students arrive at 6:50 p.m.)

CONGRATULATIONS William Lee! November Cottage Grove Sentinel Student of the Month!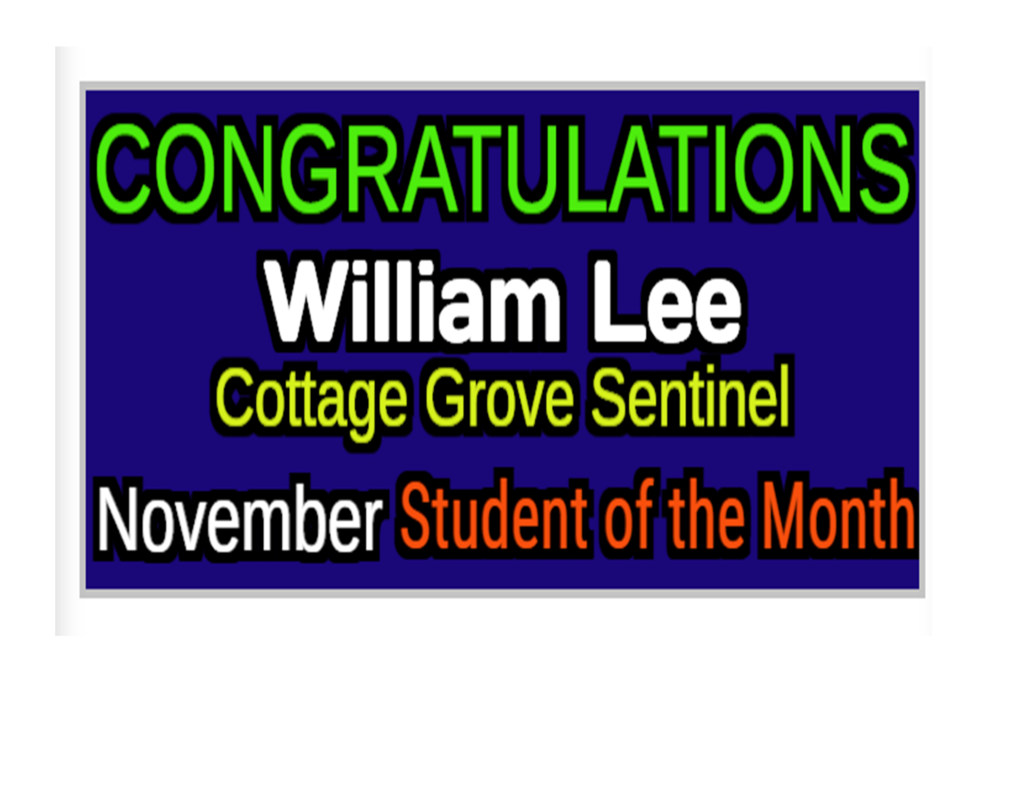 Aviva Health will host a Flu Shot and Childhood Immunization Clinic at the Elkton High School upper parking lot on Monday, December 6th from 1:30 pm to 4:30 pm.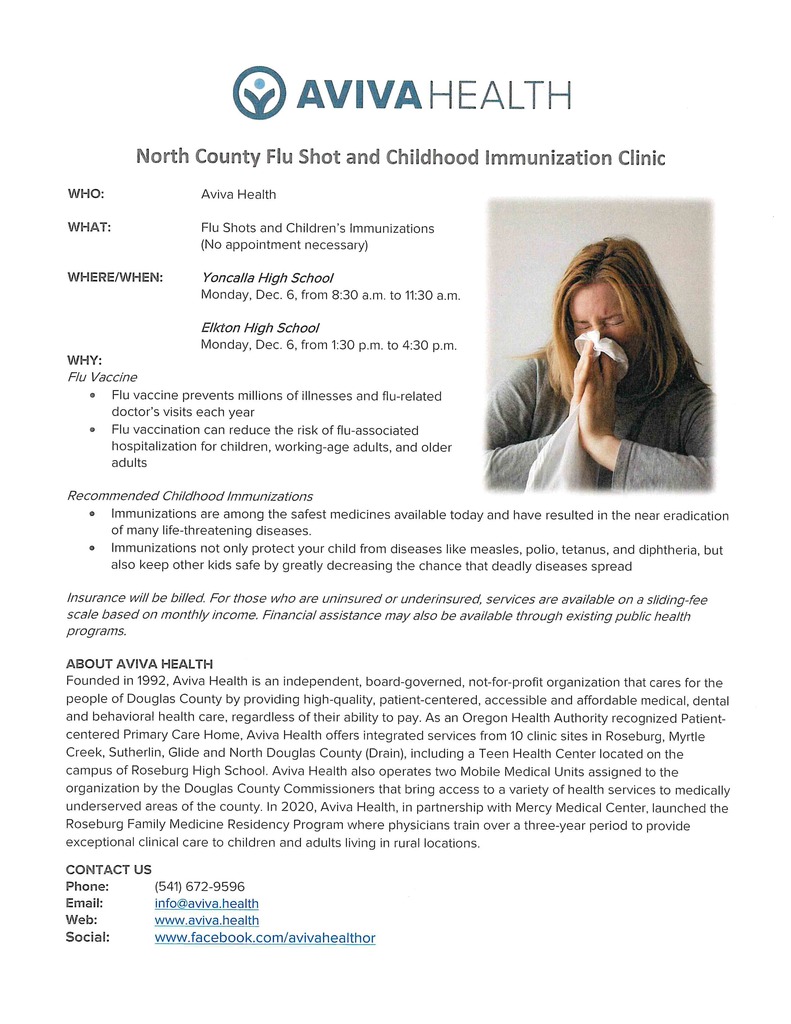 Weekly events for 11/29 to 12/4. School will be in session this Friday, 12/3.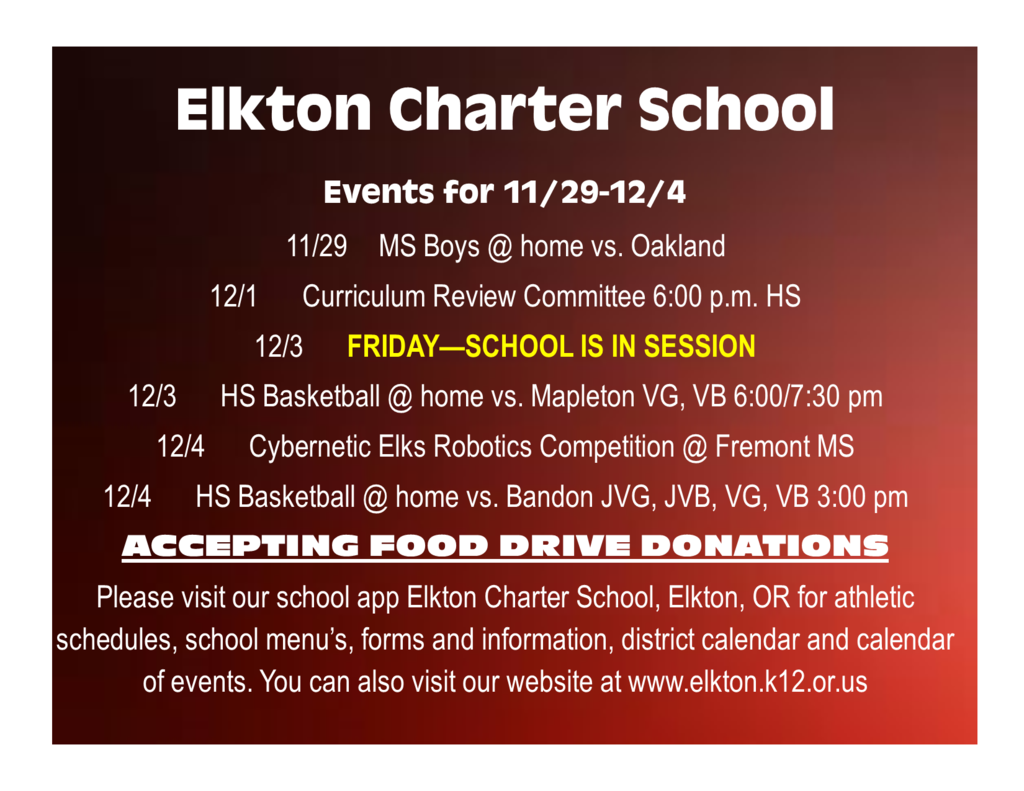 Annual Food Drive 11/29-12/13 It is time to spread good cheer and fortune—if you have a little to share and would like to give, we invite you to be a part of our annual food drive. You may drop off non-perishable donated items at the Elkton Grade School, Elkton High School, Brandborg Winery or Elkton Community Education Center and the Elkton Bible Bap-tist Church. Monetary donations will be used to purchase hams, turkeys, sacks of potatoes, dinner rolls, and other household items that are much needed and appreciated. In addition to the above locations, donation collection cans for monetary contributions can also be found at various local spots such as Arlene's Café, Tomaselli's Bakery, Brandborg Winery, River's Edge Winery, ECEC, High School and Grade School Offices, Farm Pickins, Bradley Vineyard, Riverbank Speedy Mart Donations are distributed to local families. We thank you for your generosity. Should you have any questions you may contact Melissa Whitley at 541-584-2228 ext 200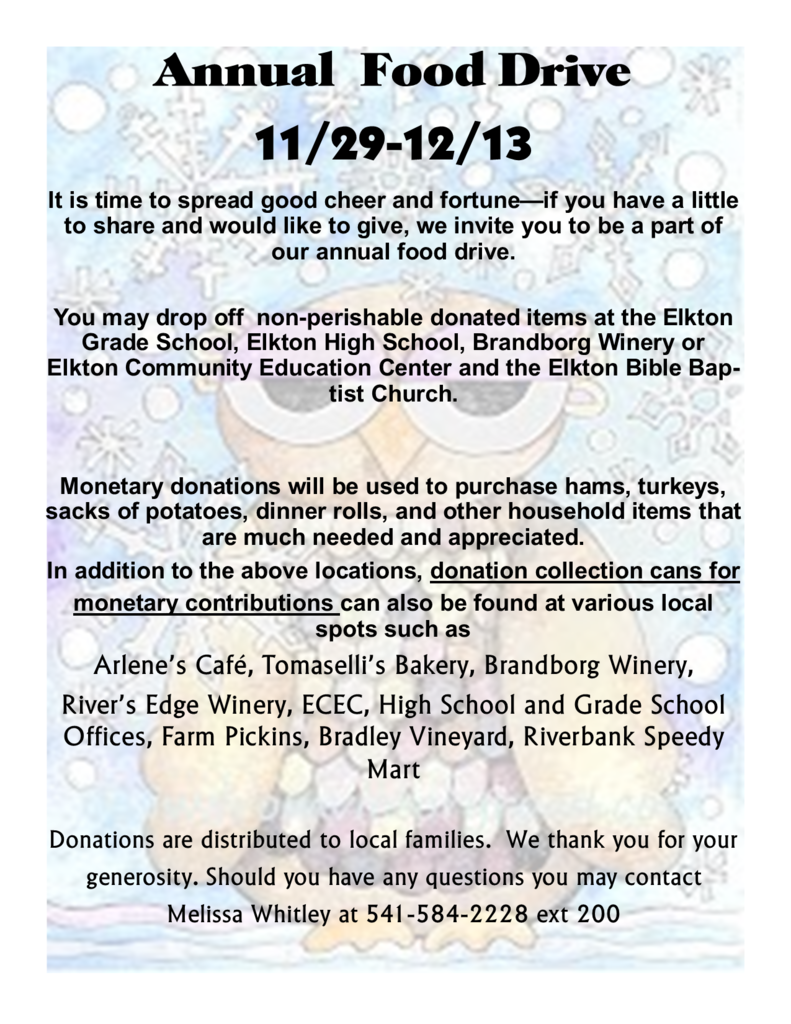 The long distance service as well as cell phone service is out in the local area. This may affect calls in and out of the District. If you are trying to reach the school offices with no luck, please try email. To reach the Elkton Grade School office email
Chandra.Arbogast@elkton.k12.or.us
for the Elkton High School office email
Laurie.Winslow@elkton.k12.or.us
.

Wednesday, 11/24 early release 1:30 p.m. No school 11/25 and 11/26 to celebrate the Thanksgiving holiday. Have a safe and Happy Thanksgiving!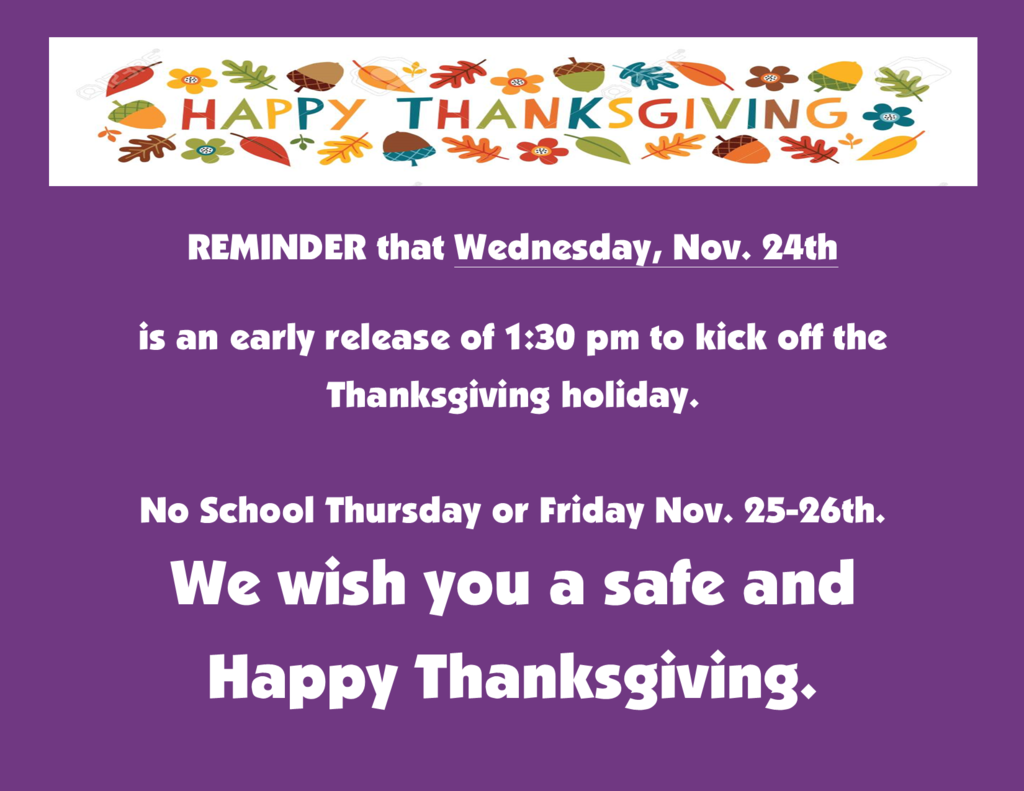 Weekly Events 11/22-11/26/21